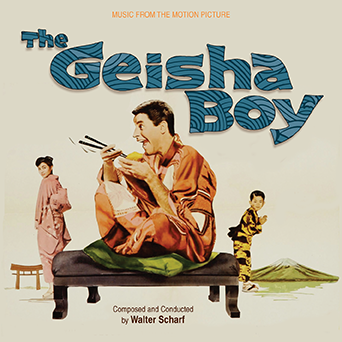 Kritzerland is proud to present a new limited edition soundtrack:

THE GEISHA BOY

Music Composed by Walter Scharf

The comedy team of Dean Martin and Jerry Lewis was born in 1946. The duo quickly became a hugely popular act. At Paramount they did a string of successful comedies, which, along with their films and nightclub appearances, made them the hottest comedy team working – until 1956, that is, when Dean Martin ended the partnership. Jerry Lewis stayed at Paramount and became one of their biggest stars with his first solo feature, The Delicate Delinquent (1957). That was followed by Rock-a-Bye Baby and The Geisha Boy – both directed by the great Frank Tashlin (Lewis had yet to make his directorial debut – that would happen a couple of years later with The Bellboy). The Geisha Boy is one of Lewis's best films. It has everything, from gorgeous photography (in Technicolor and VistaVision) to huge laughs (there are sequences in the film that are fall-out-of-your-chair funny) to truly touching sequences that never become too maudlin.

Tying all of the film's elements perfectly together is the tuneful and great score by Walter Scharf. Scharf became Lewis's go-to composer. Their relationship lasted for years, resulting in great scores for The Sad Sack, Rock-a-Bye Baby, The Bellboy, Cinderfella, The Ladies Man, The Errand Boy, It's Only Money, and, of course, The Nutty Professor. During his long and distinguished career, Scharf received ten Oscar nominations, mostly for his arranging work on such classics as Funny Girl and Willy Wonka and the Chocolate Factory. But his original scores for non-Lewis films were terrific and include Ben, Walking Tall, Where Love Has Gone, If It's Tuesday, This Must Be Belgium, Pocketful of Miracles, as well as a host of TV scoring for such classic shows as The Man From U.N.C.L.E, Bonanza, Mission: Impossible, The Undersea World of Jacques Cousteau, The Love Boat and many, many others.

Scharf was one of the great composers of comedy films. He knew what to score and what to leave unscored, and he had the uncanny ability to give frivolity and lightness some unexpected depth. The Geisha Boy is a seriously gorgeous score with a memorable main theme and beautiful variations on it that capture every mood and emotion, making the comedy even funnier and the pathos even more touching. Comedy scoring is an art, and Scharf was as good an artist at it as anyone.

The Geisha Boy had an LP release on Jubilee Records. That LP version is presented here in its entirety, from the original stereo album masters. The original session scoring tapes for the film were missing material, but we include here everything that was on them – between them and the album master, it's pretty much everything complete.

Walter Scharf is seriously underrepresented on CD, and it's a treat to be able to issue the first CD release of one of his classic Jerry Lewis films – in fact, the first CD release of any of the classic Golden Age Jerry Lewis films. Here's to many more.

The Geisha Boy is limited to 1500 copies only. The price is $19.98, plus shipping.

CDs are in stock and will ship within a day or two.