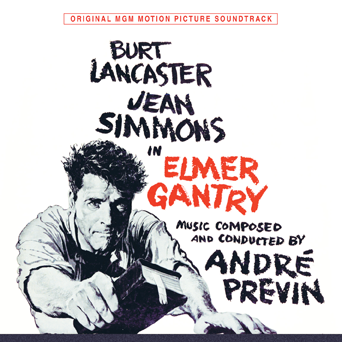 BLESS HIM! DAMN HIM!
Kritzerland is proud to present a new limited edition CD soundtrack:
ELMER GANTRY
Music Composed and Conducted by Andre Previn
In 1960, Elmer Gantry,based on the best-selling 1927 novel by Sinclair Lewis,was brought to the screen by writer/director Richard Brooks. The story of a womanizing con man and an evangelist selling religion all across America was an instant success with critics and audiences. Burt Lancaster gave one of his greatest performances as Gantry, for which he won a well-deserved Oscar. Jean Simmons was pure magic as Sister Sharon Falconer, and sweet ingénue Shirley Jones amazed everyone with her fantastic performance as Lulu, the former lover of Gantry and now prostitute – she, too, won a well-deserved Oscar. The supporting cast was filled with great character actors, including Arthur Kennedy, Edward Andrews, Dean Jagger, John McIntire, and Hugh Marlowe. The film would also win an Oscar for Brooks' screenplay, and received one other key nomination for Best Scoring of a Drama or Comedy Picture.
The competition was tough that year – the other nominees were Ernest Gold's Exodus, Tiomkin's The Alamo, Alex North's Spartacus, and Elmer Bernstein for The Magnificent Seven (not even nominated was Herrmann's Psycho). While the prize would go to Exodus, Previn's score stood tall amongst that year's film scores.
Previn's score is almost a character in the film. It's a surprisingly short score, but it informs the film every time it's used. The "Main Title" is one of the most propulsive scene-setters in the history of film scoring, an astonishing virtuosic showpiece that sets the stage perfectly. While there are some standard religious songs sprinkled throughout the film, Previn never resorts to quoting from them in his actual score cues. In a career filled with brilliant scores (including Bad Day At Black Rock, Two For The Seesaw, Inside Daisy Clover, The Four Horsemen of the Apocalypse, and his four for Billy Wilder, One, Two, Three, Irma La Douce, Kiss Me, Stupid, and The Fortune Cookie) Elmer Gantry remains a highlight of his distinguished career.
Elmer Gantry was originally issued on a United Artists LP, and then on CD by Ryko. For this release, we've used the original three-track album takes, with much improved sound. There were occasional dropouts on the master tape, all of which were heard on the Ryko release – they've all been fixed for this release. Ryko discovered some outtakes, which they put into a bonus suite, but we found one outtake cue that they inadvertently left off. We've put the entire score in film order, including the outtakes. We've also included the original album presentation, as well. Also included on the Ryko were a few other bonus tracks of the religious music – but they were included as acapella vocals. The original LP presentation included the instrumental tracks for "Shall We Gather At The River" and "Stand Up For Jesus." For the first time we've combined the vocals and instrumental tracks and present them as they were used in the film.
It gives us great pleasure to finally present the score as heard in the film, in clear, crisp sound. It's a Previn masterpiece.
This release is limited to 1000 copies only. The price is $19.98 plus shipping.
CD will ship by the first week of March – however, preorders placed directly through Kritzerland usually ship one to five weeks earlier (we've been averaging four weeks early).