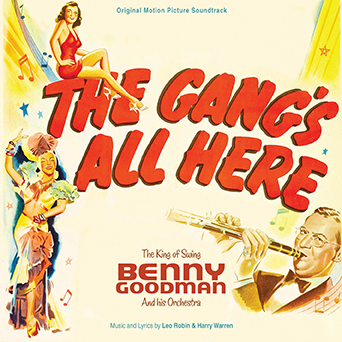 Kritzerland is proud to present a world premiere release of the classic Twentieth Century Fox musical:

THE GANG'S ALL HERE

Featuring The King of Swing, Benny Goodman and his Orchestra
Songs by Leo Robin and Harry Warren
Musical Direction by Alfred Newman

"It's colossal, it's stupendous, and one of the artiest productions ever made… It is a Technicolor dream that takes on nightmarish proportions or the aspects of a Dali drawing in motion."

So said the New York Daily Newsand it kind of sums up Twentieth Century Fox's 1943 Technicolor extravaganza, The Gang's All Here, in a nutshell. Directed by Busby Berkeley at his most outrageous, the film starred Alice Faye, Carmen Miranda, James Ellison, Phil Baker, Benny Goodman and his Orchestra, and such stalwart character actors as Eugene Pallette, Charlotte Greenwood, and Dave Willock. The film is loaded with great musical numbers, and has there ever been a number like "The Lady in the Tutti Fruitti Hat," with all those chorines holding huge bananas, especially considering the era in which the film was made? The film was very popular – the war was on and audiences wanted and needed respite from it and The Gang's All Here really delivered the Technicolor escapism they craved.

The Gang's All Herehad a screenplay by Walter Bullock (Springtime in the Rockies, Greenwich Village) but it really was just an excuse to have a whole lot of great musical numbers, many of which were written by the great Harry Warren and Leo Robin. Add to that the King of Swing, Benny Goodman and his Orchestra, and numbers like "You Discover You're in New York," "Minnie's in the Money," "No Love, No Nothin'," "A Journey to a Star" "Paducah," the wacky final number, "The Polka Dot Polka" and others, and you have a big, bountiful cake with mounds of delectable frosting. As surreal as the whole concoction is, it is a wildly entertaining ride every step of the way.

Over the years, the film has attained camp classic status, but it's more than just camp – it's a crazy Technicolor fever dream filled with Berkeley's mad genius and wonderful performances and music. To say they don't make 'em like this anymore would be the understatement of all time.

For this first ever legitimate CD release of The Gang's All Here, we present all the music recorded for the film, as well as a few unused cues, all culled from materials in the Fox vaults and restored by Mike Matessino.

The Gang's All Here is limited to 1000 copies only and is priced at $19.98, plus shipping.

ATTENTION INDIEGOGO CONTRIBUTORS: FOR THIS RELEASE – IF YOU WANT TO OPT-OUT OF RECEIVING IT YOU WILL NEED TO SEND US AN E-MAIL OPTING OUT PRIOR TO THE DATE IT SHIPS – SEND TO kritzerland@gmail.com. IF YOU WISH TO RECEIVE IT, YOU DON'T NEED TO DO ANYTHING. IF YOU ARE NOT AN INDIEGOGO CONTRIBUTOR, ORDER AS YOU NORMALLY WOULD. THANK YOU.

CDs will ship by the second week of January, but we've actually been averaging three to five weeks early in terms of shipping ahead of the official ship date. We hope to have this out the door before Christmas.
(Click on cover for enlarged version)
• Click on titles below to hear a song sample:

Hail, Hail, the Gang's All Here / * Aquero do Brasil
You Discover You're in New York
• Acuerdo
Digga A Ella (The Uncle Samba)
P'ra Que Disquitir
Let's Dance *
• Minnie's in the Money *
A Journey to a Star (instrumental) *
Soft Winds *
• The Lady in the Tutti Frutti Hat
A Journey to a Star
• The Kiss
Later Tonight / The Jitters *
Newspaper Montage / Befuddled
• No Love, No Nothin' *
Marlbrough (Jolly Good Fellow) *
Party Rehearsal (No Love, No Nothin') *
The Dance (No Love, No Nothin') *
Blackmail Sequence
Minnie's in the Money (instrumental) *
The Panther / Pulling the Picture
Swan Song / Paducah *
• A Journey to a Star (Reprise)
Polka Dot Polka — Finale (A Journey to a Star)
Unused Music
You Discover You're in New York (instrumental) *
• No Love, No Nothin' (score cue)
Minnie's in the Money (alternate) *
The Gang's All Here (fanfare)
*features The Benny Goodman Orchestra