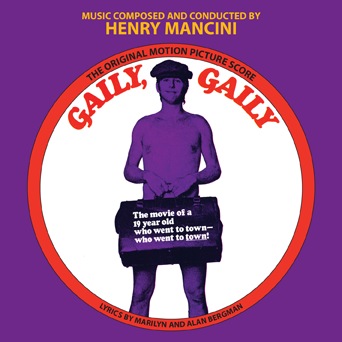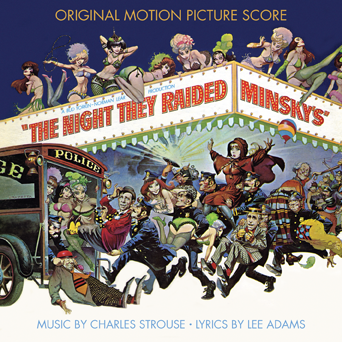 "THERE WAS THIS REAL RELIGIOUS GIRL…"
Kritzerland is proud to offer a double bill of two never-before-released on CD soundtracks on one CD –
Gaily, Gaily, music composed and conducted by Henry Mancini
The Night They Raided Minsky's, music composed by Charles Strouse.
Gaily, Gaily is the 1968 film version of Ben Hecht's fictional memoirs about coming of age in 1910 Chicago, and his beginnings as a journalist and author. The film was directed by Norman Jewison (coming off an incredible run of hits with The Cincinnati Kid, The Russians Are Coming, The Russians Are Coming, In The Heat Of The Night, and The Thomas Crown Affair), and starred Beau Bridges, Brian Keith, Melina Mercouri, Hume Cronyn, and a very young Margot Kidder. Henry Mancini provided the absolutely delightful score. As was his wont back then, the album was a rerecording – it contains all the film's themes, but not the actual film tracks. The movie's main theme, "Tomorrow Is My Friend," is one of Mancini's most beautiful and haunting melodies – it's heard here in several variations, including a beautifully sung version by Jimmie Rodgers (the lyrics to this and the film's other songs are by Marilyn and Alan Bergman). The album also included a recitation by Melina Mercouri, accompanied by Mancini's underscore. As always, Mancini's music is tuneful, memorable, and altogether wonderful.
The Night They Raided Minsky's is the story of an innocent Amish girl who comes to New York in 1925, gets involved with a burlesque troupe at Minsky's Burlesque, and inadvertently ends up inventing the striptease. The film was directed by William Friedkin (his second, after the Sonny and Cher picture, Good Times), and starred Jason Robards, Norman Wisdom, Britt Eklund, Bert Lahr, and Harry Andrews. It was a troubled film – Bert Lahr died during shooting, the first cut was, by all accounts, one of the worst first cuts in the history of film (so said David Picker, head of United Artists), Friedkin wasn't around at all in post-production, and producer Norman Lear left the film in the hands of editor Ralph Rosenblum to fix. It took Rosenblum a year, but fix it he did – restructuring scenes, shifting them around, using stock footage – he transformed Minsky's from disaster into hit. The score was by the great Charles Strouse, who'd written the Broadway shows Bye Bye Birdie, All-American, Golden Boy, and It's A Bird, It's A Plane, It's Superman (he'd go on to write Applause, and the smash hit, Annie), as well as the score to the film Bonnie and Clyde. With his lyricist, Lee Adams, he wrote several really clever and catchy songs for the film, as well as a bunch of clever and catchy themes to go with them. It's a wonderfully melodic score, and features vocals by Rudy Vallee, Dexter Maitland, Lillian Heyman, as well as the film's stars, Jason Robards and Norman Wisdom.
It's a tuneful, toe-tapping, and terrific double bill – the kinds of scores they simply don't write anymore, by two great composers – Henry Mancini and Charles Strouse.
This release is limited to 1000 copies only. The price is $19.98 plus shipping.
CDs will ship by the end of September – however, preorders placed directly through Kritzerland usually ship one to five weeks earlier (we've been averaging four weeks early).