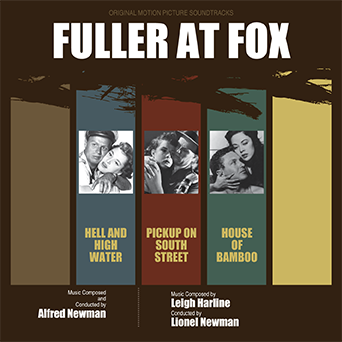 Kritzerland is proud to present three scores on two-CDs at a one-CD price, all from the brilliant films of Samuel Fuller:

FULLER AT FOX

including

HELL AND HIGH WATER
Composed and Conducted by Alfred Newman

PICKUP ON SOUTH STREET
Composed by Leigh Harline Conducted by Lionel Newman

HOUSE OF BAMBOO
Composed by Leigh Harline Conducted by Lionel Newman

Samuel Fuller began his working relationship with Daryl F. Zanuck and Twentieth Century Fox in 1951 with Fixed Bayonets! That film was quickly followed by the three films whose scores are included in this set – Hell and High Water, Pickup on South Street, and House of Bamboo.

For Hell and High Water, Fuller assembled a first-rate cast, including Richard Widmark, Victor Francen, Cameron Mitchell, David Wayne, Gene Evans, Richard Loo, and, as Denise Girard, and newcomer Bella Darvi. The film's handsome photography was by Joseph MacDonald and the music was by Alfred Newman, the head of the Fox music department, who by the time of Hell and High Water had already won six Oscars.

Newman, of course, turned in an exemplary score, highlighting all the action, suspense, and romance in his usual brilliant way. The score is yet another Newman classic from an era in which he simply could do no wrong.

The year prior to Hell and High Water, Fuller made a noir classic for Fox, Pickup on South Street, which starred Richard Widmark, Jean Peters, Richard Kiley, and the extraordinary Thelma Ritter (who was nominated for an Oscar for this film). The score was written by Leigh Harline. At that point, Harline had already won an Oscar for Best Song with "When You Wish Upon a Star," from Walt Disney's Pinocchio (lyrics by Ned Washington), and one for Best Original Musical Score for that film. Harline's music is top-notch, starting with his propulsive main title music, which really sets the mood for what's to come – jagged, bluesy, and jazzy. The film's music perfectly defines its characters, drama, and milieu. It's a great score for one of Fuller's finest films.

Finally, we have House of Bamboo, starring Robert Ryan, Robert Stack, Shirley Yamaguchi, Cameron Mitchell, Brad Dexter, Sessue Hayakawa, DeForest Kelley, and Biff Elliot. The film is classic Fuller and while it takes place in Japan it more often takes place in Fullerland. Once again, Fuller turned to Leigh Harline for the score and Harline turned in what was and is one of his best scores. It is lush with melody and orchestral color, and the Fox orchestra has rarely sounded more beautiful. Harline remains one of the most under-appreciated of the Golden Age composers, but hopefully with each CD release, new fans will emerge and people will appreciate just how great he was.

All three scores have had previous releases but are long out of print. For this release, Hell and High Water has received a loving upgrade from Mike Matessino, and he has newly mastered the other two scores. We are thrilled to follow up our release of Preminger at Fox with this tribute to one of the most interesting and one-of-a-kind directors in all of cinema – Fuller at Fox – with the music of two wonderful composers who knew exactly what Samuel Fuller and his films were all about.

Fuller at Fox is limited to 1000 copies only and priced at $19.98, plus shipping. CDs will ship by the third week of October, but never fear, we've actually been averaging three to five weeks early in terms of shipping ahead of the official ship date.

ATTENTION INDIEGOGO CONTRIBUTORS: FOR THIS RELEASE – IF YOU WANT TO OPT-OUT OF RECEIVING IT YOU WILL NEED TO SEND US AN E-MAIL OPTING OUT PRIOR TO THE DATE IT SHIPS – SEND TO kritzerland@gmail.com. IF YOU WISH TO RECEIVE IT, YOU DON'T NEED TO DO ANYTHING. IF YOU ARE NOT AN INDIEGOGO CONTRIBUTOR, ORDER AS YOU NORMALLY WOULD. THANK YOU.
(Click on cover for enlarged version)
• Click on titles below to hear a song sample:

HELL AND HIGH WATER
The Atom Bomb
Paris
Denise Enters/World Broadcast
Rendezvous
His Own Price for Dying
There's No Tomorrow
Submerged Submarine
Choppy Seas
Denise
Captain Jones/Sub Through Choppy Seas
61 J Capsule
The Red Sub
Up at Sub
The Ocean Floor
The Sub's Rising/The Victorious Sub
We've Sighted Land
Oil Tank Explosion
Stormy Sea
Kevlock Island
"Your Record, Captain"/The Enemy/The Killing
Escape
Chin Lee's Burial
The Bomber is Destroyed/Homeward Bound

Composed and Conducted by Alfred Newman
Bonus Tracks
"Don't Fence Me In"
The Atom Bomb (revised)
House of Bamboo (Song)
House of Bamboo (Demo)
House of Bamboo (Instrumental
PICKUP ON SOUTH STREET
• Main Title
South Street
Skip McCoy
Moe
Intruder
Muffin
Again
Candy and Skip
• Argument
"Mam'selle"
Sorrow
• Skip Out
HOUSE OF BAMBOO
• Main Title
• Investigation
Arrival in Japan
River Front
Mariko's Escape
• Meeting Place
Night Scene
Breakfast and Bath
Mariko's Decision
Disclosure
Goodnight
Telephone Warning
Serenade in Blue
Sandy's Suspicion
Fun Fair
End Title/Epilogue
Bonus Tracks
Be Still Little Voice
Yakuza Tea Party

Composed by Leigh Harline
Conducted by Lionel Newman