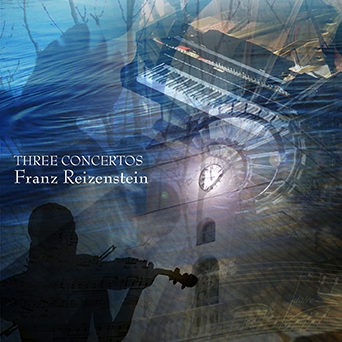 Kritzerland is proud to present a new release – a classical/film music-related album:

FRANZ REIZENSTEIN
THREE CONCERTOS

Music by Franz Reizenstein

Franz Reizenstein, a German-born British composer, published his first piece of classical music in 1936 and composed for the concert hall regularly thereafter. His works included several concertos, lots of chamber music, operas, scads of piano music, and, in 1959, his I first discovered the music of Franz Reizenstein back in 1959, he, like so many other British classical composers before him, began composing scores for films – in 1959 he scored the low-budget programmer, The White Trap, but it was his other 1959 film that brought him much more attention, the classic Hammer horror film, The Mummy.

The following year, Reizenstein scored another horror film, Circus of Horrors, and it was another excellent score, and a score that actually got a soundtrack album release. While the album only contained about twelve minutes of Reizenstein's dramatic music, it brought him even more attention. Horror music fans, however, waited in vain for another original Reizenstein score – other than some of his The Mummy music being used in Hammer's The Curse of the Mummy's Tomb, there were to be no further film scores – one wonders whether that was his choice or simply lack of interest from filmmakers and studios – whichever it was, it was a loss for film music.

On this CD, we have performances of two of his major concertos – his first piano concerto, written in 1941, and his violin concerto from 1954. The two concertos here are historic performances in mono, and the sound is archival in nature. The third piece on the CD, his brilliant and fall-out-of-your-chair funny Concerto Popolare, a piano concerto to end all piano concertos, was "composed" for the 1956 Hoffnung Music Festival. The Popolare became an instant hit and has been performed many times since, always to delighted audiences. This is the live performance from the 1956 festival. The premise of the concerto is that the orchestra believes it is playing Tchaikovsky's first piano concerto, but the pianist thinks he/she is playing the Grieg piano concerto. A musical battle ensues, with the back-and-forth including bits of concertos by Rachmaninov, Gershwin, Addinsell's Warsaw Concerto, and others. It is breathtakingly brilliant and, as you'll hear, the audience was indeed falling out of their seats.

As always, with our historical issues, mastering engineer James Nelson has worked as many wonders as possible with the sound. We're hoping that more classical and film music fans come to know Reizenstein's marvelous concert works.

FRANZ REIZENSTEIN – THREE CONCERTOS is limited to 500 copies only and priced at $19.98, plus shipping. This is a PRE-ORDER – CDs will ship by the end of January, but never fear, we've actually been averaging three to five weeks early in terms of shipping ahead of the official ship date.

Also note that your PayPal receipt is the only receipt you get – we don't send out confirmations beyond that.
Click on cover for enlarged view.
• Click on titles below to hear a song sample:
Piano Concerto No. 1 in G major
• 1. Allegro moderato
2. Molto Adagio
• 3. Allegro risoluto
BBC Scottish Orchestra
Walter Goehr, conductor
Daphne Spottis Woode, piano

Violin Concerto in G major
• 4. 1st Movement
• 5. 2nd Movement
6. 3rd Movement
BBC Symphony Orchestra
Walter Susskind, conductor
Max Rostal, violin

Hoffnung Symphony Orchestra
Norman Del Mar, conductor
Yvonne Arnaud, piano