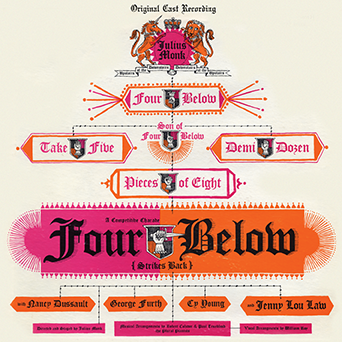 Kritzerland is proud to present a world premiere CD release of another classic Julius Monk revue:
FOUR BELOW STRIKES BACK
37 West 56th Street. An address that in-the-know sophisticated New Yorkers knew very well in the mid-1950s – the resplendent reconverted townhouse of one John Wanamaker that served as the home to a delectably delicious series of cabaret entertainments presented at the Upstairs at the Downstairs by Julius Monk.
For Four Below Strikes Back, Monk assembled a great four-person cast, including the amazing Nancy Dussault, Jenny Lou Law, George Furth (before he turned writer with Company, Twigs, The Act, and Merrily We Roll Along), and Cy Young. The then-topical material is wonderful, as it always was, and somehow then-topical material crazily remains topical through the years. Writers include Monk regulars Ronny Graham, Tom Jones, Bud McCreery, Bruce Williamson, and others. As always, it's a mix of fun songs along with a few well-chosen ballads, all delivered in high style by the great cast. This kind of revue has gone the way of the dodo bird and it's a real shame. Frankly, we could use a Julius Monk today – someone sophisticated, wry, witty, urbane, and yet completely off-kilter.

Monk's shows were completely unique, and his shows were very special and beloved by all who were lucky enough to see them. Their popularity happily produced many cast recordings of his shows so their legacy lives on and we're pleased to give Four Below Strikes Back its first CD release.
FOUR BELOW STRIKES BACK is limited to 500 copies only and priced at $19.98, plus shipping. CDs will ship by the final week of August, but never fear, we've actually been averaging three to five weeks early in terms of shipping ahead of the official ship date.
ATTENTION INDIEGOGO CONTRIBUTORS: WE ARE DOWN TO THE LAST FEW PEOPLE, SO FROM HERE ON IN IF YOU'D LIKE A CD YOU MUST OPT-IN BY SENDING AN E-MAIL TO KRITZERLAND@GMAIL.COM. PLEASE DO NOT SEND US AN E-MAIL IF YOU ARE DONE WITH YOUR PERK LEVEL. IF YOU ARE UNSURE, THEN ASK BEFORE OPTING IN, PLEASE.