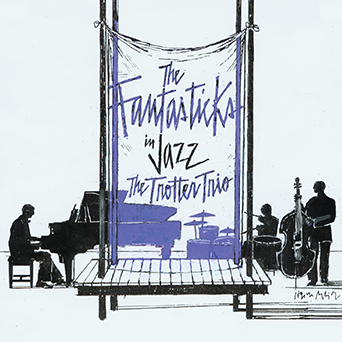 Kritzerland is proud to present a great new release:

THE FANTASTICKS IN JAZZ

THE TROTTER TRIO and SPECIAL GUESTS MAUREEN MCGOVERN AND HARVEY SCHMIDT

Music by Harvey Schmidt
Lyrics by Tom Jones

Kritzerland is so pleased to announce the re-release of a brilliant jazz cover version of The Fantasticks, the longest-running musical in history, with a great score by the late Harvey Schmidt and lyricist Tom Jones. Originally released in 2001 and out of print for at least fourteen years, the album features the incredible Trotter Trio, comprised of pianist Terry Trotter, bass player Tom Warrington, and drummer Joe LaBarbera, along with very special guests Maureen McGovern and the one and only Harvey Schmidt.

Harvey passed away last year and we'll be releasing a few albums in tribute to him. You'll hear the classic songs, "Try to Remember," "Soon It's Gonna Rain," "They Were You," and many others. Terry Trotter is best known as the long-time pianist for Natalie Cole, and equally for his classic series of Sondheim in Jazz albums for producer Bruce Kimmel, who produced this album. Terry's arrangements are Fantastick, his playing goes from poetic and sensitive to swinging with the best of them. The great cover art is, of course, done especially for this album by Harvey Schmidt. If you love The Fantasticks, or just love great jazz, this album is a must-have.

THE FANTASTICKS IN JAZZ is limited to 500 copies only and priced at $19.98, plus shipping. This is a PRE-ORDER – CDs will ship by the first week of July, but never fear, we've actually been averaging three to five weeks early in terms of shipping ahead of the official ship date.

Also note that your PayPal receipt is the only receipt you get – we don't send out confirmations beyond that.
(Click on cover for enlarged version)
• Click on titles below to hear a song sample:

• Much More
Round & Round
• I Can See It
Moonlight #2
• Soon It's Gonna Rain
Special guest: Harvey Schmidt
Metaphor
Never Say No
• Soon It's Gonna Rain
(vocal version)
Special guest: Maureen McGovern
Beyond That Road
• They Were You
• Try To Remember
Bonus Track:
A Perfect Time To Be In Love
(written for the Robert Goulet tour)