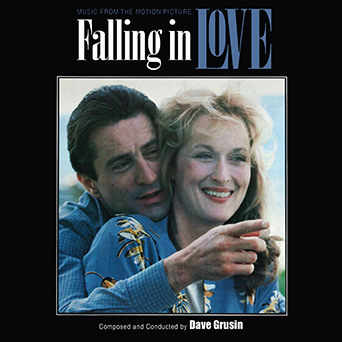 Kritzerland is proud to present a new world premiere limited edition soundtrack:

FALLING IN LOVE

Music Composed and Conducted by Dave Grusin

For all of the 1984 trappings, Falling in Love is a throwback to 1940s and 1950s films like Brief Encounter and An Affair to Remember, complete with two stars (Robert De Niro and Meryl Streep), a meet-cute, a budding romance no matter how hard the protagonists try to avoid it (both have settled into routine marriages), and the ins and outs and ups and downs of two people who are, yes, falling in love. At times funny, at times rueful, at times beautifully romantic, at times sad, and at times painful, Falling in Love hits all the right notes and weaves its spell quite effortlessly. And part of what makes it effortless is the incandescent and beautiful score by Dave Grusin.

No one did this type of romantic film better than Dave Grusin. He simply and effectively captures every mood of the film, with several stunningly gorgeous melodies that weave their way throughout the score, along with some classic upbeat Grusin tunes.

As occasionally happens, several wonderful cues went unused in the film, most notably Grusin's main title theme, which was replaced with an already existing Grusin piece, "Mountain Dance" (tracked into the film several times). For this world premiere release, we're presenting Grusin's entire score, including the original main theme and all of the unused cues, exactly as he wrote it, all transferred from the original session masters housed in the Paramount vault.

It's always wonderful to be able to issue a "new" Dave Grusin score. His brilliant work has graced any number of classic films since he began – his is a distinctive and unique voice in film scoring and Falling in Love is yet another example of his prodigious talents.

Falling in Love is limited to 1000 copies only and priced at $19.98, plus shipping. CDs will ship by the second week of December, but we've been averaging three to five weeks early in terms of shipping ahead of the official ship date.
(Click on cover for enlarged version)
• Click on titles below to hear a song sample:


• Main Title*
Trying to Recall
First Encounter
• Seat Taken?
• Looks/Lunch?
M61*
Catch the Train
• Chinatown*
M71*
M71A/Wait for Me*
First Kiss
Waiting
Getting Dressed*
The Apartment/I'm Sorry
• The Funeral
No Molly
Helpless
Decision
The Crossing
Back to Rizzzoli's*
• Almost Too Late
Together at Last
End Credits
Bonus Tracks
Trying to Recall (alternate)
Wait for Me (alternate)
Decision (alternate)
*(unused)