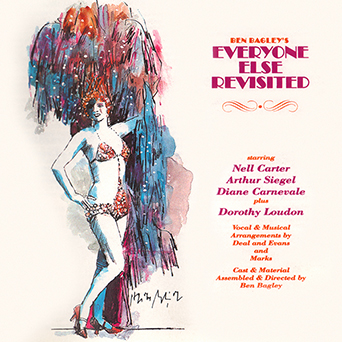 Kritzerland is proud to present the latest release in the Ben Bagley Revisited series:
BEN BAGLEY'S EVERYONE ELSE REVISITED
Music by Baldwin Bergesen, Ralph Blane, Lew Brown, Hoagy Carmichael, Phil Charig, Moose Charlap, Duke Ellington, Jay Gorney, Burton Lane, Milton Pascal, Richard Rodgers, Harry Ruby, Dan Shapiro, Arthur Siegel, Sam H. Stept, Kay Swift, Charles Tobias, Fats Waller, G. Wood
Lyrics by William Archibald, Lew Brown, Phil Charig, Howard Dietz, Edward Eliscu, Lorenz Hart, Paul James, Bert Kalmer, John Latouche, Eddie Lawrence, George Marion, Jr., Hugh Martin, Phyllis McGinley, Johnny Mercer, Henry Myers, Milton Pascal, Dan Shapiro, Sam H. Stept, Charles Tobias, G. Wood
Just looking at the stellar list of composers and lyricists, Ben Bagley really did spread the wealth on Everyone Else Revisited. Filled with rarities and gems by not only some of the finest songwriters ever but many who are simply not known today, this delightful album is smaller and more intimate, having been produced towards the end of the series when it had become harder for Ben, money-wise, the fun cast includes the divine Nell Carter, the brilliant Dorothy Loudon, June Carroll, Arthur Siegel, The Populaires, Diane Carnevale and others. In addition to the songs on the original LP, Ben has added some songs from Rodgers and Hart's America's Sweetheart.
As we've done for all these releases, we've considerably spruced up the sound for this new release. And the cover art is, of course, by the great Harvey Schmidt.
EVERYONE ELSE REVISITED is limited to 500 copies only and priced at $19.98, plus shipping. This is a PRE-ORDER – CDs will ship the third week of July, but we always strive to get it out earlier. Lately, however, the pressing plant has been slower than usual due to various shortages of materials and help – we do keep on them, but we're at their mercy.


Also note that your PayPal receipt is the only receipt you get – we don't send out confirmations beyond that.