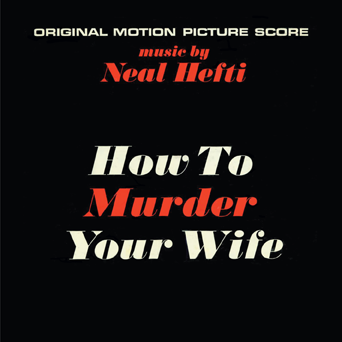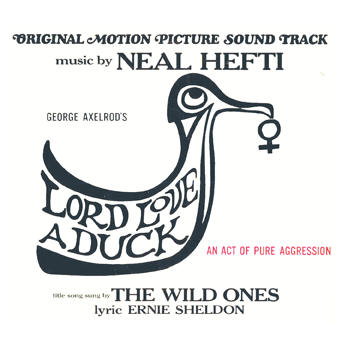 "HEY HEY HEY"
Kritzerland is proud to offer a two CD set featuring the original motion picture soundtracks from two 1960s comedies, How To Murder Your Wife and Lord Love A Duck, music composed and conducted by Neal Hefti, including the world premiere release of Wife's original film tracks.
How To Murder Your Wife and Lord Love A Duck were both written by George Axelrod, who'd had great success on the stage with The Seven Year Itch and Will Success Spoil Rock Hunter, and as a screenwriter for two all-time classic films, Breakfast At Tiffany's and The Manchurian Candidate. How To Murder Your Wife (directed by Richard Quine) starred Jack Lemmon, Virna Lisi, Terry-Thomas, Eddie Mayehoff, and Claire Trevor, and Lord Love A Duck (directed by Axelrod) starred Roddy McDowall, Tuesday Weld, and Ruth Gordon. Wife was a hit, but is barely thought of today because in today's world it's quite an un-PC film, while Duck was a flop that became a cult classic over the years, despite it being a wildly uneven film. Both share Mr. Axelrod's quirky, iconoclastic comedic voice, and both, especially when viewed in the context of the decade they were made in, are still quite funny.
Providing the scores for both films was the great Neal Hefti. For How To Murder Your Wife, Hefti wrote one of his most sublime scores, one filled with one incredibly catchy theme after another, and for Lord Love A Duck he wrote a fun and funky score that perfectly captures the whole mid-1960s Southern California scene perfectly. During that period, Hefti also wrote the classic theme for TV's Batman, and the scores for Duel At Diablo, Barefoot In The Park, Harlow, Synanon, Oh, Dad, Poor Dad, Mama's Hung You In The Closet and I'm Feelin' So Sad, and, of course, his classic theme and score for The Odd Couple.
How To Murder Your Wife was previously released on CD as part of a very big and very expensive box set called The MGM Soundtrack Treasury from Film Score Monthly – that set sold out very quickly, so for people who missed it, or may have wanted only one or two scores, it was a lost opportunity. Therefore, we're very pleased to bring out this single release of Wife, coupled with the CD premiere of Lord Love A Duck. Wife receives a brand new, fresh transfer from the original stereo album master, and Duck has been mastered from its stereo album master.
But the big news is our discovery of Wife's original film score tracks. The album version was a re-recording, much in the style of what Henry Mancini was doing back then – the film's themes, but in more pop-oriented versions and which were nowhere near as good as the original film tracks. Recorded in mono, all the film tracks, believed to have been lost to time, actually survived in excellent sound, and we are thrilled to present the entire original film soundtrack on one CD, and the album presentation and Lord Love A Duck on a second CD. Hearing those original score tracks will be a revelation and goes to prove that Neal Hefti was an amazing and unique film composer. And, best of all, this two CD set is available at our normal one CD limited edition price.
This release is limited to 1000 copies only.
CDs will ship by the second week of September – however, preorders placed directly through Kritzerland usually ship one to five weeks earlier (we've been averaging four weeks early). To place an order, see the cover, or hear audio samples, just visit www.kritzerland.com.