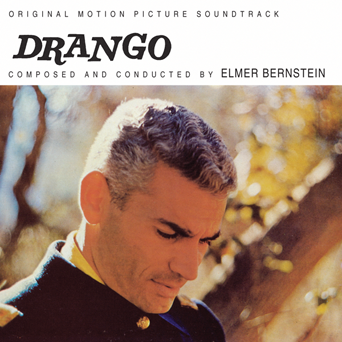 Kritzerland is proud to present a limited edition soundtrack:
DRANGO
Music Composed and Conducted by Elmer Bernstein
Drango, a low-budget film from 1957, starred Jeff Chandler, a very underrated actor, and had a terrific supporting cast, including Julie London, Donald Crisp, Ronald Howard, and Joanne Dru, along with John Lupton, Milburn Stone, Parley Baer, and Morris Ankrum. The film takes place in the months following the Civil War and the script presents the story of bitterness, resentment, and redemption, honestly and simply and without any attempts to sugar coat anything from anyone's point of view.
Directed by Hall Bartlett, who made several films that have become historic for various reasons – Unchained (the story of Elroy "Crazylegs" Hirsch – and which gave the world "Unchained Melody"), Zero Hour (which was the inspiration and basis for the classic film comedy Airplane), The Caretakers (which features one of the great Elmer Bernstein scores), and the film of the best-selling book, Jonathan Livingston Seagull.
One thing Bartlett had as a director was extremely good taste in the composers he chose for his projects – Alex North for Unchained, George Duning for All The Young Men, Neil Diamond and Lee Holdridge for Jonathan Livingston Seagull, and, of course, the great Elmer Bernstein for The Caretakers and Drango.
By the time of Drango, Bernstein had already written two masterpieces of film scoring – The Man With The Golden Arm and The Ten Commandments. 1957 was a busy and incredible year for Bernstein – in addition to Drango, he also scored Men In War, Fear Strikes Out, Sweet Smell Of Success, and The Tin Star. Drango is a very strong Bernstein score – somber, melancholy, exciting, and, as always, filled with wonderful and unique Bernstein themes.
Drango was issued on a Liberty Records LP. This is its first official CD release. There was a specious overseas limited edition release thanks to the European fifty year copyright law, but that CD was mastered from a not very pristine copy of the LP, with ticks and pops and, for some reason, much of the sound coming mostly from the left speaker (how this can happen with a mono LP is anyone's guess). This CD was mastered from the original first generation album master housed in the Capitol vaults. The difference in sound is, of course, major, and it is a thrill to hear this prime Elmer Bernstein score in gorgeous and full-bodied mono sound.
This release is limited to 1000 copies only. The price of the CD is $19.98, plus shipping. Additionally, we are offering a special deal with the purchase of this release.
CD will ship the second week of August – however, never fear, preorders placed directly through Kritzerland usually ship one to five weeks earlier (we've been averaging four weeks early).