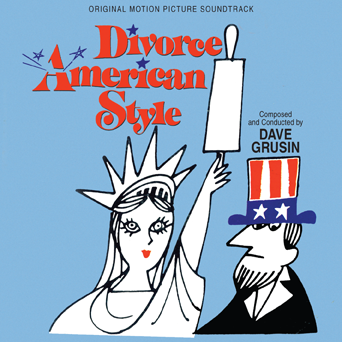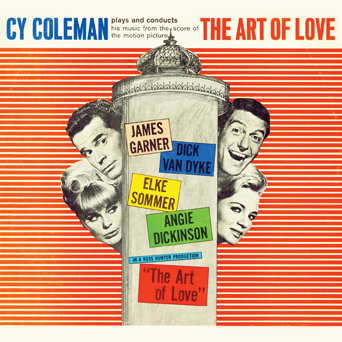 Kritzerland is proud to present a limited edition double-bill soundtrack – two great scores on one CD, both making their CD debut:
DIVORCE, AMERICAN STYLE
Music Composed and Conducted by Dave Grusin
and
THE ART OF LOVE
Music Composed and Conducted by Cy Coleman
A man drives up into the hills overlooking a Los Angeles suburb. He pulls out some legal briefs and then a baton and begins conducting as Dave Grusin's music accompanies shots of upscale houses from which we hear sounds of the endless bickering of unhappy married couples. Thus begins Divorce, American Style, a classic comedy from 1967 that was a huge hit with audiences and critics. Written by Robert Kaufman and Norman Lear (who received an Academy Award nomination for their work), and directed by Bud Yorkin (the latter two gentlemen would shortly change the face of television forever with All In The Family), the film stars an incredible cast, including Dick Van Dyke, Debbie Reynolds, Jason Robards, Jr., Jean Simmons, Joe Flynn, Shelley Berman, Tom Bosley, Lee Grant, Martin Gabel, Van Johnson, Lee Grant, and a young Tim Matheson.
The film veers effortlessly between hilarious comedy and drama and tying those elements together into a cohesive whole is the utterly charming, tuneful, and great score by Dave Grusin. The score to Divorce, American Style is instant classic Grusin right out of the gate. We get the classical-sounding yet jazzy main title music, we get cool big-band grooves, we get gorgeous 1960s-style romantic music (the kind you always wish was accompanying you in your romantic endeavors), dramatic scoring to lend the film a bit of pathos and depth, a baroque-flavored fugue, a Herb Alpert/Baja Marimba-style Mexican-flavored tune, but all uniquely Grusin – it's an amazing debut film score.
Divorce, American Style was released on a United Artists LP. For this first ever CD release, we had the original album masters but happily we also found the original four-track masters and that is what was used for this release. The sound on the four-tracks was spectacular, and there was even a little bit of music that didn't make the LP. Every note of what was on the four-tracks has been used and put where it belongs in the score sequence. This is our third Dave Grusin CD (the others are A Dry White Season and Mulholland Falls), and it's a particular thrill to bring his very first film score to CD for the first time, in stunning sound and with all music present and accounted for.
Two years prior to Divorce, American Style, Dick Van Dyke starred in another comedy, this one a frothy farce from director Norman Jewison (in the days when he made frothy farces) and screenwriter/actor Carl Reiner. The Art Of Love also starred James Garner, Elke Sommer, Angie Dickenson, Carl Reiner, Miiko Taka, and Miss Ethel Merman as Coco La Fontaine (a role that was originally offered to Mae West). To score the film, Jewison turned to Broadway composer Cy Coleman. Coleman had already written several songs that had become standards, including "The Best Is Yet To Come" and "Witchcraft" (written with lyricist Carolyn Leigh), as well as two shows for Broadway, Wildcat (starring Lucille Ball), and Little Me (starring Sid Caesar), as well as scoring two films in 1964 – Theodore J. Flicker's low-budget comedy The Troublemaker, and Universal's big-budget comedy, Father Goose, starring Cary Grant and Leslie Caron. Coleman's score for The Art Of Love is tuneful, fun, and filled with his typical gift of melody and rhythm. It also features a wickedly amusing homage to Mancini's Peter Gunn, infectious main title music set to great De Patie Freling animation, and romance and comedy in equal doses.
The Art Of Love had an album on Capitol Records, but, in the style of the then-popular Henry Mancini albums, it was a re-recording with Coleman conducting and playing piano, doing all the main themes from the film but in more pop-style arrangements. However, three tracks on the album were very close to their film counterparts and those three tracks were orchestrated by the great Russ Garcia (The Time Machine). Since the album was designed more as an easy listening album than a score album, we've slightly rearranged the sequence to play more like the film. This is the first CD release of this delightful score and the original two-track album masters, which were housed in Capitol's vaults were in pristine condition.
So, here are two wonderful 1960s scores by two very different but equally terrific composers.
This release is limited to 1000 copies only. The price of the CD is $19.98, plus shipping. Additionally, we are offering a special deal with the purchase of this release.
CD will ship the last week of last week of August – however, never fear, preorders placed directly through Kritzerland usually ship one to five weeks earlier (we've been averaging four weeks early).