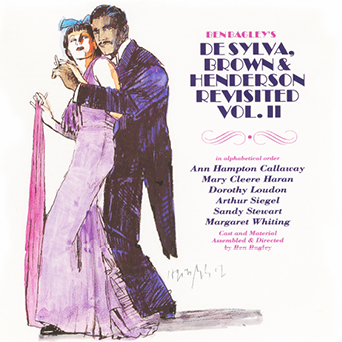 Kritzerland is proud to present the next release in our ongoing series of Ben Bagley reissues:
DESYLVA, BROWN, and HENDERSON REVISITED VOLUME II
One of the rarest of the Ben Bagley series and one of the highest priced of the OOP CDs, were thrilled to bring back DeSylva, Brown & Henderson Revisited Volume II, another album chockful of wonderful songs by B.G. Buddy DeSylva, Lew Brown, and Ray Henderson. They were a hugely successful songwriting team, serving up such delectable and hummable hits as "You're the Cream in My Coffee," "The Varsity Drag," "Button Up Your Overcoat," "(I'm a Dreamer) Aren't We All," "Birth of the Blues," "The Thrill Is Gone," and many, many others. All three had successful and fascinating careers on their own. DeSylva, along with Johnny Mercer and Glen Wallichs, created Capitol Records, and DeSylva was also a movie producer.
Bagley assembled a great cast for the album, including Dorothy Loudon, Margaret Whiting, Mary Cleere Haran, Sandy Stewart, Ann Hampton Callaway, and Arthur Siegel, with musical direction and arrangements by the wonderful Norman Paris. There are some really fun rarities here and this is one of Bagley's most fun albums. The lyrics are sublime, and the tunes are brilliant.
As always, we've spruced up the sound, and we of course give you the great Harvey Schmidt artwork that were so much a glorious part of this series of albums.
DESYLVA, BROWN, and HENDERSON REVISITED VOLUME II is limited to 500 copies only and priced at $19.98, plus shipping. This is a PRE-ORDER – CDs will ship by the third week of September, but never fear, we've actually been averaging three to five weeks early in terms of shipping ahead of the official ship date. While that hasn't always been the case during the crazy pandemic, things are finally getting back to normal at our pressing plant.


Also note that your PayPal receipt is the only receipt you get – we don't send out confirmations beyond that.