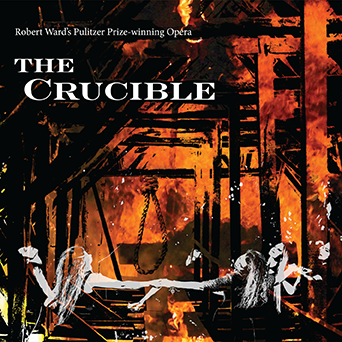 Kritzerland is proud to present a two-CD set of the classic Pulitzer Prize-winning American Opera:

THE CRUCIBLE

Music by Robert Ward
Libretto by Bernard Stambler
From the play by Arthur Miller
The Original 1961 New York City Opera Production
Conducted by Emerson Buckley

We are very happy and proud to issue Robert Ward's opera of Arthur Miller's play, The Crucible in a very improved new mastering. Winner of the Pulitzer Prize, The Crucible is a powerful, emotional, lyrical, and altogether amazing American opera, one of the finest ever written, which is why it's produced frequently and has been since its premiere. It was commissioned by the New York City Opera and first performed there on October 26, 1961 to audience acclaim. It featured a first-class cast including Chester Ludgin, Francis Bible, Norman Treigle, and Patricia Brooks, with settings by Paul Sylbert and costumes by Ruth Morley. The same cast performed the opera in San Francisco four years after its New York premiere, and it's been produced the world over, most recently in a production in Germany directed by film director Hugh Hudson. Even though the New York Times review was dismissive in a very pedantic way, the critic had to admit several times that for the audience it was "a grand success," and that "the audience loved it." And audiences have been loving it ever since.

Ward's musical language is wonderfully tonal, filled with exquisite melodies, musical tension, and dramatic power, all with Ward's peculiarly American sound, perfectly reflecting the passions and mounting hysteria on view (Miller's play was his way of making a strong statement about the hysteria of HUAC and McCarthyism – how better than to correlate it to the Salem witch hunts and trials) – and Stambler's libretto stays very true to Miller's play. The performances are perfection. With sung-through musical theater like Les Miserables and others, The Crucible would probably be at home in a Broadway theater these days alongside other classic American operas like Porgy and Bess, Street Scene, and Regina.

The Crucible was issued in a two-LP set on CRI Records in 1962. It was subsequently issued on CD in 1987, but that release suffered from muddy sound and low-level mastering. For this release, licensed from New World Records who now owns the CRI catalog), masterful mastering engineer James Nelson has gone in and done right by this great score – his fresh, new mastering brings out all the detail and depth of the original recording, and we think anyone who's had the previous issue will be delighted with this new mastering.

Robert Ward was a wonderful composer – his piano concerto and symphonies are major works and remain in the catalog still. His music is of the classic American school of Copland and Hanson and Roy Harris – accessible, beautiful, and even fun in a way music rarely is these days. He passed away in 2013 at the ripe old age of ninety-five.

The Crucible is a two-CD set limited to 500 copies only and priced at $23.98, plus shipping. CDs will ship by the last week of November, but never fear, we've actually been averaging three to five weeks early in terms of shipping ahead of the official ship date.

ATTENTION INDIEGOGO CONTRIBUTORS: IF YOU WANT TO RECEIVE THIS RELEASE YOU MUST OPT-IN BY SENDING US AN E-MAIL – SEND TO kritzerland@gmail.com. IF YOU DO NOT WISH TO RECEIVE IT, YOU DON"T NEED TO DO ANYTHING. IF YOU ARE NOT AN INDIEGOGO CONTRIBUTOR, ORDER AS YOU NORMALLY WOULD. THANK YOU.
(Click on cover for enlarged version)
• Click on titles below to hear a song sample:

Act One
Opening of Act One
Gently, Sirs, Gently
• Jesus, My Consolation
For Much in the World
Oh, How Many Times, Mr. Parris?
End of Act One
Act Two

• Opening of Act Two
I've Forgotten Abigail
But Oh, the Dreams
For Sarah Good Confessed
End of Act Two
Act Three
• Opening of Act Three
• Courtroom
Open Thou My Lips, Oh Lord
These Girls Never Saw a Spirit
End of Act Three
Act Four
• Opening of Act Four
But Sir, You Stir Rebellion
What Word of the Children
• God Does Not Need My Name/
End of Act Four