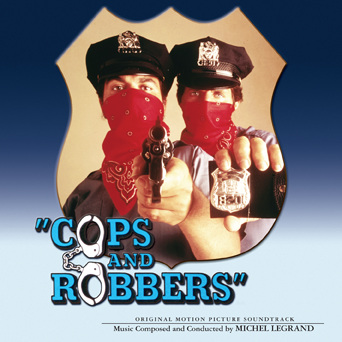 "IT'S A WORLD OF COPS AND ROBBERS…"

Kritzerland is proud to offer the original motion picture soundtrack from Cops and Robbers,
with a score by Michel Legrand.

Cops and Robbers was a well reviewed and received 1973 caper film starring Joseph Bologna and Cliff Gorman, written by the great Donald Westlake, and directed in off-handed improvisatory style by Aram Avakian.

Michel Legrand was hired to compose and conduct the score and he created a terrific and eclectic bunch of cues, some of them classic Legrand 70s funk, some pretty, some atonal and weird, and all wonderfully Legrandesque. However, the film's director seemed to have something else in mind; seemingly he wanted the music to mostly function as part of the sound design – as source music, as pad, as everyday life, and not really as conventional film scoring. Save for only one or two cues, Legrand's music always seems to be coming out of radios (the radio broadcasts seem to always be present), and the cues that might be considered score cues still almost function as source music in the film itself. While a soundtrack album was prepared at the time of the film's release, it never came out, probably because if people had seen the film they would have found little need to purchase it, since so little of the music is heard – sometimes only a few seconds. But the album is fantastic, and it's a shame the music wasn't actually used more prominently in the film because it's Legrand at his 70s best. The title song is infectious in the way Shaft's title song is (with a similar-style vocal), and each track is completely its own musical picture. We're thrilled to release what is basically an almost never-before-heard Legrand score.

Beautifully mastered for CD from the album masters, Cops and Robbers is a must-have for any film score aficionado or Legrand fan.

This release is limited to 1000 copies only.

CDs will ship the beginning of August – however, preorders placed directly through Kritzerland usually ship one to five weeks earlier.