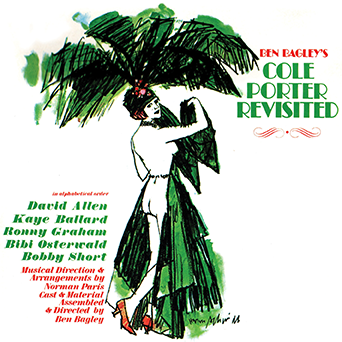 Kritzerland is proud to present the latest release in the Ben Bagley Revisited series:
BEN BAGLEY'S COLE PORTER REVISITED
Music and Lyrics by Cole Porter
Charming, outrageous, lyrical, extraordinary, pithy, rarified, tuneful, earnest, ravishing – put them all together and what do they spell? Cole Porter, a master of melody and lyric invention the likes of which are rarified indeed. To that we can add witty, urbane, naughty, heartfelt, impish, and sophisticated. "Night and Day," "Love for Sale," "I Get a Kick Out of You," "Anything Goes," "All Through the Night," "You're the Top," "Blow, Gabriel, Blow," "Being the Beguine," "Just One of Those Things," "It's DeLovely," "Ridin' High," "You'd Be So Easy to Love," "I've Got You Under My Skin," "In the Still of the Night" are just the tip of the Porter iceberg, along with such shows as Fifty Million Frenchmen, The New Yorkers, Gay Divorce, Nymph Errant, Anything Goes, Jubilee, Red, Hot, and Blue, Kiss Me Kate, Out of This World, Can-Can, Silk Stockings, and films like High Society, Les Girls, Born to Dance, and more.
There were five volumes of Cole Porter Revisited on LP and then CD. This, the first of them, is filled with great Porter numbers – not the all-time classics, but, as always with Ben, the lesser-known songs, and what a delight they are, one gem after another. The arrangements and orchestrations of Norman Paris are wonderful, and what a cast he assembled for this one: Kaye Ballard, Bobby Short, Bibi Osterwald, and David Allen. As we've done for all these releases, we've considerably spruced up the sound for this new release. And the cover art is, of course, by the great Harvey Schmidt.
COLE PORTER REVISITED is limited to 500 copies only and priced at $19.98, plus shipping. This is a PRE-ORDER – CDs will ship by the first week of April, but never fear, we've actually been averaging three to five weeks early in terms of shipping ahead of the official ship date.


Also note that your PayPal receipt is the only receipt you get – we don't send out confirmations beyond that.