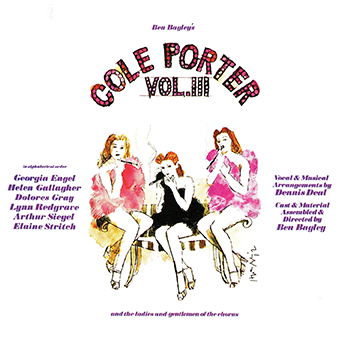 Kritzerland is proud to present the latest release in the Ben Bagley Revisited series:
BEN BAGLEY'S COLE PORTER VOLUME III
Music and Lyrics by Cole Porter
Charming, outrageous, lyrical, extraordinary, pithy, rarified, tuneful, earnest, ravishing – put them all together and what do they spell? Cole Porter, a master of melody and lyric invention the likes of which are rarified indeed. To that we can add witty, urbane, naughty, heartfelt, impish, and sophisticated. A simple list of his song titles embody all those qualities, from "Let's Misbehave" and "Let's Do It" to "Night and Day," "Love for Sale," "I Get a Kick Out of You," "Anything Goes," "All Through the Night," "You're the Top," "Blow, Gabriel, Blow," "Begin the Beguine," "Just One of Those Things," "It's DeLovely," "Ridin' High," "You'd Be So Easy to Love," "I've Got You Under My Skin," "In the Still of the Night," and many, many more.
Cole Porter Volume III (for this one, Bagley dispensed with the "Revisited" moniker) includes many rarities, with a great cast, this time mostly some legendary ladies, including Elaine Stritch, Dolores Gray, Lynn Redgrave, Helen Gallagher, Georgia Engel, and representing the male animal, the ubiquitous Arthur Siegel. Songs from Fifty Million Frenchman, Gay Divorce, Nymph Earrant, Wake Up and Dream, Let's Face It and more, including songs from unproduced films and songs cut from various shows. The arrangements and orchestrations of Dennis Deal really shine, too. As we've done for all these releases, we've considerably spruced up the sound for this new release. And the cover art is, of course, by the great Harvey Schmidt.
COLE PORTER VOLUME III is limited to 500 copies only and priced at $19.98, plus shipping. This is a PRE-ORDER – CDs will ship by the third week of July , but never fear, we've actually been averaging three to five weeks early in terms of shipping ahead of the official ship date.
Also note that your PayPal receipt is the only receipt you get – we don't send out confirmations beyond that.