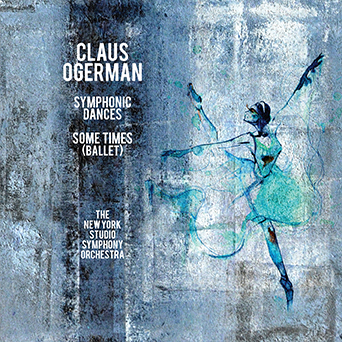 Kritzerland is proud to present its second-ever classical release, two amazing works by one amazing composer:

CLAUS OGERMAN
SYMPHONIC DANCES
SOME TIMES (BALLET)

Claus Ogerman conducting the New York Studio Symphony Orchestra

Claus Ogerman moved to the United States in 1959, where he immediately became one of the most prolific and in-demand arrangers/orchestrators for some of the most iconic artists of the 1960s, including Antonio Carlos Jobim, Wes Montgomery, Kai Winding, Cal Tjader, Stan Getz, Al Hirt, Wynton Kelly, Jimmy Smith, Oscar Peterson, and others, as well as singers such as Frank Sinatra, Sammy Davis, Jr., Astrud Gilberto, Lesley Gore, and Connie Francis. Additionally, he had several albums under his own name recorded for RCA. One of his finest achievements during that decade was his collaboration with the great jazz pianist Bill Evans, which resulted in the classic Bill Evans Trio with Symphony Orchestra, an album of astonishing depth and beauty, with Evans' poetic piano weaving in and out of Ogerman's magnificent arrangements of classical pieces by Faure, Bach, Chopin, and others. However, with no slight to the above-mentioned masters, the most beautiful track on the album is "Elegia," written by Ogerman himself.

During the next two decades, Ogerman still arranged and orchestrated for such disparate artists as Barbra Streisand, George Benson, Michael Franks, Stephane Grappelli, Freddie Hubbard, Dr. John, and Stanley Turrentine, but he mostly devoted himself to serious composition. Two of his major achievements during that time included Symphonic Dances (1971) and his ballet score Some Times (1972), and they remain two of his greatest works. Symphonic Dances is a beautiful, textured, and haunting work that does exactly what Ogerman intended – stirs the emotions. Its moods and orchestral colors are hypnotic and mesmerizing. It's like a film score to whatever film plays across your mind as you listen.

Some Times, a ballet score for large orchestra and jazz group, was commissioned by the American Ballet Theatre. The world premiere took place on July 14, 1972 at the New York State Theatre at Lincoln Center. The combining of symphonic music, jazz, and even a bit of rock, was fairly unique in the ballet world of 1972 and Ogerman did a masterful job of it. In 1977 he reworked Some Times and in so doing came up with a hit album, an instant classic, Gate of Dreams. In its pre-Gate of Dreams form, it's a little leaner but just as evocative and beautiful. As with Symphonic Dreams, you can imagine this being a soundtrack to some movie of your own imagining. Considering Ogerman began his musical career scoring films in Germany, it's rather surprising that some producer or director wasn't smart enough to hand him film assignments here, although his work Symbiosis (another Bill Evans classic) was used to wonderful effect in Sideways.

These performances were first issued on CD back in 1992 on Bay Cities. Over the years that CD has become quite the collector's item, so we thought it was high time to reissue it again and give it a fresh mastering, to celebrate the brilliance that was Claus Ogerman, who passed away in 2016 at the age of eighty-five.

Claus Ogerman – Symphonic Dances/Some Times is limited to 500 copies only and priced at $19.98, plus shipping. CDs will ship by the first week of November, but never fear, we've actually been averaging three to five weeks early in terms of shipping ahead of the official ship date.

ATTENTION INDIEGOGO CONTRIBUTORS: IF YOU WANT TO RECEIVE THIS RELEASE YOU MUST OPT-IN BY SENDING US AN E-MAIL – SEND TO kritzerland@gmail.com. IF YOU DO NOT WISH TO RECEIVE IT, YOU DON"T NEED TO DO ANYTHING. IF YOU ARE NOT AN INDIEGOGO CONTRIBUTOR, ORDER AS YOU NORMALLY WOULD. THANK YOU.