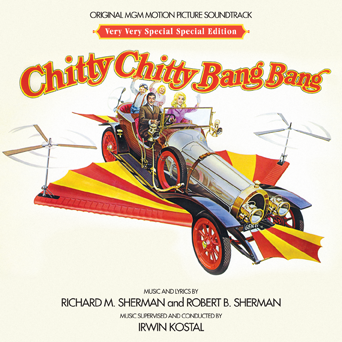 FANTASMAGORICAL!
Kritzerland is very proud to present a new limited edition CD soundtrack in a Very Very Special Special Edition:
CHITTY CHITTY BANG BANG
Music and Lyrics
by Richard M. Sherman and Robert B. Sherman
Music Supervised and Conducted by Irwin Kostal
What's really fantasmagorical is that the man who gave the world its most well known spy, the one and only James Bond, also gave the world its most delightful magical car, Chitty Chitty Bang Bang (a classic Ian Fleming title if ever there was one). In 1968, Albert R. Broccoli, co-producer of the Bond films, produced a lavish musical film version, starring Dick Van Dyke as inventor Caractacus Potts, Sally Ann Howes as Truly Scrumptious, and a host of fine character actors – Lionel Jeffries, Benny Hill, Gert Frobe (Goldfinger himself), Robert Helpmann, Anna Quayle, Desmond Llewelyn (another Bond regular, Q), along with Adrian Hall and Heather Ripley as Caractacus' children, Jeremy and Jemima. The screenplay was by another wonderful, fanciful author, Roald Dahl (Charlie and the Chocolate Factory, James and the Giant Peach), along with Ken Hughes, with additional dialogue by Richard Maibaum. Hughes also directed the film. Along for the ride were cameraman Christopher Challis, production designer and Bond regular Ken Adam, choreographers Marc Breaux and Dee Dee Wood (Mary Poppins) – and for the film's most important element, its score, the tuneful, incredibly catchy songs by the team of Richard M. Sherman and Robert B. Sherman, also of Mary Poppins fame, with all the musical elements brought together by the brilliant Irwin Kostal.
While Chitty Chitty Bang Bang is a most magical car, the most magical thing in the film is, in fact, not the car but the songs by the Sherman Brothers. Richard M. and Robert B. had been writing for years at Disney, where they'd given the world one delightfully catchy song after another and then delivered their brilliant song score for Mary Poppins. They had a habit of being able to write a tune that was instantly hummable, tunes you simply could not get out of your head. And so it was with their songs for Chitty Chitty Bang Bang. The title song is one of those can't get it out of your head things that they did so effortlessly, but the film is awash in great, tuneful songs, including "Truly Scrumptious," "Toot Sweets," "Me Ol' Bamboo," and the haunting "Hushabye Mountain" one of their most stunningly beautiful creations.
The Sherman Brothers have done it all – from iconic rock-and-roll ("You're Sixteen, You're Beautiful, and You're Mine"), to their iconic "It's A Small World," and their song scores for Mary Poppins, The Jungle Book, The Happiest Millionaire and others, as well as Broadway with Over Here. And, of course, Mary Poppins is still playing on Broadway at the time of this writing. In fact, I'm quite certain there is a Sherman Brothers song being played or sung somewhere in the world at just about any given moment.
Chitty Chitty Bang Bang was originally released on LP on United Artists Records (the film was distributed by UA). As was usual back then, songs were truncated, the mixes were occasionally weird, and no underscore was used. There have been two previous CD releases – one on Ryko, who added dialogue snippets throughout the album, and then on Varese Sarabande (who omitted the dialogue snippets but basically used the Ryko master). For our Very Very Special Special edition, we went back to the first generation album master – there was, of course, no way to change the mix or the generous amount of reverb used, but our masterful mastering engineer, James Nelson, has worked as much magic as humanly possible to optimize the sound present on those original album masters. We've also included the film's "Entr'Acte," the original "Main Title" (much longer than the album version – presented here with sound effects, which are actually fun and sort of go with the music), and the film mix of the "Exit Music." Following that, we give you the complete song and picture book album tracks, released concurrently with the soundtrack, and which features Richard M. Sherman himself singing, along with other vocalists, all conducted by Leroy Holmes. On CD 2, we're very pleased to present all the film's demo recordings by Richard Sherman. Finally, we had access to all of the playback tracks used during filming. These were all in mono and not that great sounding, but we've included several of them because they were material not included on the original album. These include another version of the title song (with quite a long instrumental), an instrumental called "The Vulgarian Anthem," an instrumental of the "Chu-Chi Face" waltz, and a bit of the "Doll On A Music Box" not included on the original LP. Again, the sound on the playback tapes had distortion and not optimal sound, and mixes that were prepared specifically to be lip-synched to on set. But we thought they were of enough historical importance to include them.
This release is limited to 1200 copies only. The price is $19.98, plus shipping.
CD will ship the first week of December – however, never fear, preorders placed directly through Kritzerland usually ship one to five weeks earlier (we've been averaging four weeks early). To place an order, see the cover, or hear audio samples, just visit www.kritzerland.com.