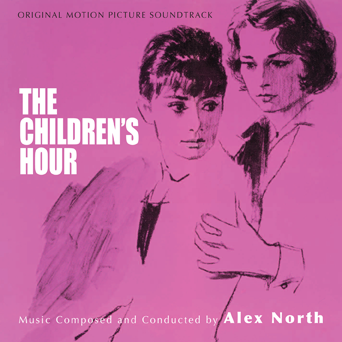 "DIFFERENT…"
Kritzerland is proud to offer a limited edition soundtrack – a world premiere release:
THE CHILDREN'S HOUR Music Composed and Conducted by Alex North
For the first time ever, Alex North's brilliant score to William Wyler's 1961 film of Lillian Hellman's The Children's Hour comes to CD. One of three scores written directly after Spartacus, The Children's Hour is classic North.
In 1936, Lillian Hellman's hit play The Children's Hour, a controversial and shocking drama about how a horrible lie and the resultant gossip (in this case, the accusation that two female teachers are having a lesbian affair) can ruin lives, was brought to the screen by Hellman and director William Wyler, starring Miriam Hopkins and Merle Oberon as the teachers and Bonita Granville as the evil and malicious child who spreads the vicious rumor and lies. Because of the Hays' Office censorship, the film was titled These Three, and no mention of the original title was allowed in any publicity or on the screen (Hellman is credited with the screenplay, but there is no "adapted from the play The Children's Hour" anywhere to be found). Obviously all traces of the lesbian issues were removed from the screenplay and it became a standard love-triangle plot. It's very unusual for a director to revisit a film made twenty-five years prior but Wyler did just that with The Children's Hour, which he finally felt he could bring to the screen without having to dilute its subject matter. The film was indeed very frank and while the "L" word is never mentioned, the subject of two female teachers being accused of having an affair together is talked about blatantly. Audrey Hepburn and Shirley MacLaine give wonderful performances as the two teachers whose lives are ruined by a malicious lie told by an evil, manipulative young girl. This film, along with a couple of others, caused the Production Code to be completely revamped, and just a few short years later it would, at long last, be abolished and replaced by the MPAA ratings system.
For The Children's Hour, Wyler turned to Alex North. Interestingly, both had just come off huge epic films – Wyler with Ben-Hur and North with Spartacus. So for both, The Children's Hour could not have been more different; a drama filmed in black-and-white, with nary a toga, a chariot, a slave, or a cross in sight. And what a score North delivered, with music that was astonishing and complex, with a memorable main theme that runs throughout the score, along with the clever use of children's nursery rhyme tunes (especially "Skip To My Lou"). North's music sounds like no other Hollywood composer of that era – there was just nobody like him, and this is North at the peak of his powers.
Over the years, other labels had inquired about The Children's Hour – but no tapes existed in the MGM vaults. Thankfully, North had kept a copy of this score in his archives, which are housed at the Margaret Herrick Library, and through their good auspices the tape was made available to us and it is that tape which was used for this CD. We had both a copy of the chosen takes from the recording session, and also a tape North had put together for a soundtrack release that obviously never happened. We used his sequencing and track titles and both tapes were used to create the CD master. The album contains North's original main and end title music, both of which, at some point, were rescored, and we've included the rescored versions, as well. It's fascinating to hear the two approaches to the main title – North's original works beautifully and times out perfectly with Wyler's images, while the rescored version works well, albeit in a completely different way, setting a completely different mood. We've also included two other bonus tracks, a brief source music cue, and one cue with an alternate ending. The sound is mono and very crisp.
This release is limited to 1000 copies only. The price is $19.98 plus shipping.
CDs will ship by the first week of January – however, preorders placed directly through Kritzerland usually ship one to five weeks earlier (we've been averaging four weeks early, and depending on where you're located, it will probably get to you in time for Christmas).