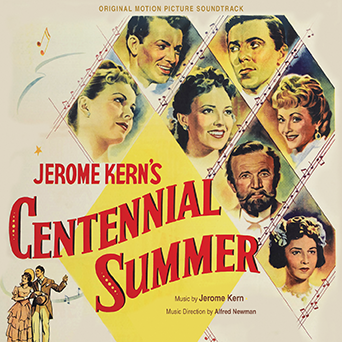 Kritzerland is proud to present a world premiere release, one of the most sought-after film musicals:

CENTENNIAL SUMMER

Music by Jerome Kern
Lyrics by Leo Robin, Oscar Hammerstein II
and E.Y. Harburg
Music Direction by Alfred Newman

In 1944, Meet Me in St. Louis captivated moviegoers the world over. The unbridled nostalgia for a simpler time was very appealing in the turbulent war years. Two years later, Twentieth Century-Fox made its own film to appeal to that same audience – Centennial Summer. With an excellent screenplay by Michael Kanin and elegant and stylish direction by Otto Preminger, Centennial Summer takes a colorful, fun and even touching look at the 1876 Philadelphia Exposition and one family's trials and tribulations and follies and foibles. Like Meet Me in St. Louis, Centennial Summer was a love letter to a bygone era and like Meet Me in St. Louis, Centennial Summer was a musical, with some wonderful musical numbers by the brilliant composer Jerome Kern and lyricists Leo Robin, Oscar Hammerstein and E.Y. Harburg.

Centennial Summer was Jerome Kern's final score – he died in November of 1945 at sixty years of age, a great loss to the world of musical theatre and film. In Centennial Summer, Kern's music could not have been in better hands than that of Fox's music director extraordinaire Alfred Newman, who also adapted Kern's tunes and created the beautiful underscore for the film. The songs are charmers and several went on to become staples of the Great American Songbook – "Up with the Lark," "All Through the Day" and "In Love in Vain." There is also a magical specialty number called "Cinderella Sue" performed by Avon Long that is one of the highlights of the movie. And Alfred Newman's underscore for the film is classic Newman. The film received two Academy Award nominations, one for Best Song and one for Best Score.

This is the official world premiere release of the complete Centennial Summer, transferred from the 1/4" archival elements in the Twentieth Century-Fox vaults and lovingly restored by Mike Matessino. It just doesn't get better than Jerome Kern, Leo Robin, Oscar Hammerstein, E.Y. Harburg and, of course, Alfred Newman. It is a thrill to bring this under-appreciated musical to CD and we hope you enjoy this delightful, tuneful and beautiful score, sounding incredible over sixty years later.

Centennial Summer is limited to 1000 copies only and is priced at $19.98, plus shipping.

CDs will ship by the first week of September, but we've been averaging three to five weeks early in terms of shipping ahead of the official ship date.