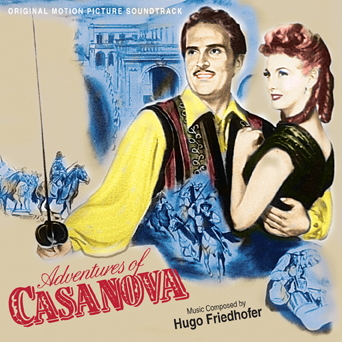 Kritzerland is proud to present a limited edition world premiere soundtrack release:
ADVENTURES OF CASANOVA
Music Composed by Hugo Friedhofer
ADVENTURE! ROMANCE!
Adventures Of Casanova presents the legendary womanizer as not only a legendary womanizer but an expert with the blade (sword, that is), champion of the oppressed, and hero for the ages. In other words, Eagle-Lion's 1948 release is a standard-issue programmer, one of about fifty titles they released that year. Adventures of Casanova stars Arturo de Cordova as Casanova, Turhan Bey as his friend Lorenzo, John Sutton as his enemy, the Count de Brissac, and fetching Lucille Bremer as Lady Bianca and Noreen Nash, as Zanetta, her servant. The film is a swashbuckler, filled with swords flashing, intrigues, double-crosses, switched identities, cowards, an oily villain, and a hero who can out-duel and out-love anyone. But what really makes the film come to life and even occasionally lifts it from its B-movie roots, is the superb score by Hugo Friedhofer.
Friedhofer had spent years as an orchestrator for Max Steiner and Erich Wolfgang Korngold, so he knew this type of film scoring intimately. By 1948, he'd been composing for films for years and had already won the Academy Award for his brilliant score to William Wyler's The Best Years Of Our Lives. How Eagle-Lion could afford him after he'd won his Oscar is anyone's guess, but they could and they did and Friedhofer provided the film with a lusty, full-bodied, and wonderful score, very much in the Korngold mold, but unmistakably Friedhofer. This is music in the classic adventure tradition, with sweeping themes for fighting and romancing, intrigue, and villains and heroes.
This is the world-premiere release of Adventures of Casanova. All that existed from this film were a set of acetates that Friedhofer had. Our mastering engineer, James Nelson, has done as much as possible in cleaning up the sound and the result is a classic Friedhofer score finally available for all to hear. Most of the acetates were in really good condition, but acetates are acetates and there is no way around some of the anomalies that are inherent in them – only a couple of cues were in really problematic condition, but we've done our best to make those sound as good as they can sound. It is an archival release, but an important one, as have been several other releases from acetates from the Golden Age issued by other labels. We have put the cues in film order, which makes for the best listening experience.
This release is limited to 1000 copies only. The price is $19.98, plus shipping. Additionally, we are offering a special deal with the purchase of this release.
CD will ship the second week of September – however, never fear, preorders placed directly through Kritzerland usually ship one to five weeks earlier (we've been averaging four weeks early).