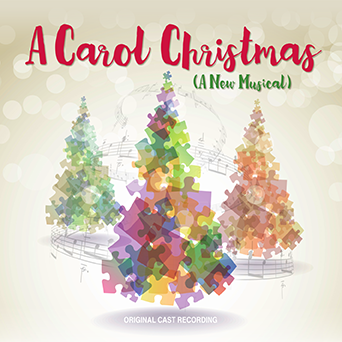 Kritzerland is proud to present a new original cast recording and just in time for the holidays:

A CAROL CHRISTMAS

Music and Lyrics by Bruce Kimmel
Book by Doug Haverty

A Carol Christmas is a brand new musical, a feminized, modernized version of Charles Dickens' classic A Christmas Carol. It's a funny, fresh, tuneful musical that's just the antidote for these crazy times. In this version, Scrooge is Carol, the busy, non-stop workaholic star of a home shopping-network type show who expects and demands that her employees work themselves until they drop, and that includes the holidays and even the day before Christmas. All the usual male roles are women in this version of the story, and the ways in which Carol visits the past, present, and future are completely unique and fun.

A Carol Christmas has a book by Doug Haverty, the author of many plays and musicals, including the off-Broadway musical Inside Out (cast album available on Kritzerland). The music and lyrics are by Bruce Kimmel, the writer/director of the cult film The First Nudie Musical and many musicals for the stage, as well as a MAC award-winning songwriter.

The world premiere production, directed by Kimmel, opened on November 16, 2018 at the Group Repertory Theatre. The show has a cast of twenty, eighteen songs, and the musical director and orchestrator is Richard Allen.

So, get in the holiday spirit early this year – this new cast recording is the perfect Christmas present and a great way to ring in the holiday season.

A CAROL CHRISTMAS is priced at $19.98, plus shipping. CDs will ship by the third week of December, but never fear, we've actually been averaging three to five weeks early in terms of shipping ahead of the official ship date.