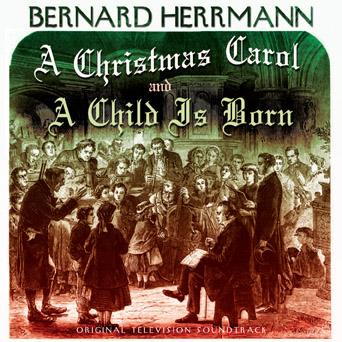 Kritzerland is proud to present a special Encore Edition limited edition release for the holidays – two great Bernard Herrmann scores on one CD:

A CHRISTMAS CAROL

and

A CHILD IS BORN

Composed and Conducted by Bernard Herrmann

On a very special evening in 1954, Shower of Stars, an anthology show on CBS, had their very special Christmas special that aired on December 23rd – an adaptation of Charles Dickens' beloved tale, A Christmas Carol, starring Fredric March and Basil Rathbone (as Scrooge and Marley). It was truly a spectacular – shot on film and broadcast in color – although the majority of viewers saw it in black-and-white, as few people had the ability to watch color back in those days. The adaptation was by Maxwell Anderson, who also wrote the lyrics for the songs, and the score was by film composer Bernard Herrmann. Weekly Variety called it "superlative TV." They called Anderson's lyrics "poetic" and his adaptation "stunning." Best of all, the reviewer called Herrmann's score "majestic." Herrmann's music is indeed wonderful. His underscoring is in the classic Herrmann mode, and his songs are quite delightful and infectiously melodic.

One year after A Christmas Carol, Herrmann was back writing another Christmas special, this time for CBS' anthology series, The General Electric Theater, which was hosted future President-to-be, Ronald Reagan. A Child Is Born was an adaptation of Stephen Vincent Benet's blank-verse play, and featured two stars of the Metropolitan Opera, Nadine Conner and Theodor Uppman, along with the wonderful actor, Victor Jory. The show was broadcast "live" on December 25, 1955. This time, Herrmann received over the title billing ("A musical adaptation by Bernard Herrmann of A Child Is Born"). The Herrmann score has beautiful sung passages, and his underscoring, as always, is masterful and typically Herrmannesque.

A Christmas Carol/A Child is Born was previously released by Kritzerland in 2008 and sold out instantly. We've received a lot of requests to rerelease it over the years. The two scores were mastered from the best sources available. No known master tapes survive on either title. A Child Is Born had a promotional 10-inch record issued, and an excellent copy of it was used for mastering. A Christmas Carol was mastered from a 15IPS tape made from what was probably the only surviving set of acetates for the show. While the sound is archival in nature, mastering engineer James Nelson has done a great job of making it sound as good as it ever will.

A Christmas Carol/A Child is Born is limited to 1000 copies only and we are pleased to present it at a special Christmas price of $14.98, plus shipping.