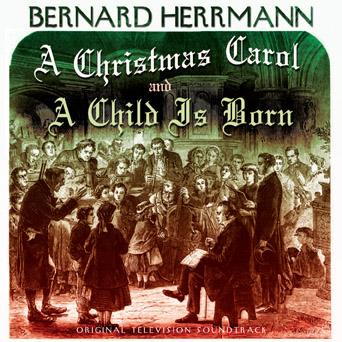 TWO GREAT BERNARD HERMANN SCORES MAKE THEIR CD DEBUT!
Kritzerland is proud to offer a limited edition CD: two rare original television soundtracks from Bernard Herrmann. Produced in 1954 and originally aired on December 23rd of that year, A CHRISTMAS CAROL was CBS Shower of Stars TV Special, adapted from the classic Dickens tale by Maxwell Anderson, who also provided lyrics for the songs. The show starred Fredric March as Scrooge, and Basil Rathbone as Marley. The show was well reviewed and received two repeats during the Christmas season in 1955 and 1956. Herrmann created a wonderful score (Variety called it 'majestic') and his songs are quite delightful, with infectious melodies. Mr. Herrmann received his only Emmy nomination for this score. The nine tracks feature underscore, some dialogue, and the songs - in addition to the soloists, the choral work is performed by The Roger Wagner Chorale. Mr. Herrmann conducts the forty-piece orchestra. A CHILD IS BORN was written in 1955 for The General Electric Theater hosted by Ronald Reagan. Bernard Herrmann adapted it from the blank-verse play by Stephen Vincent Benet. The show featured Metropolitan Opera stars Nadine Conner and Theodor Uppman, along with the wonderful character actor, Victor Jory, and, once again, the Roger Wagner Chorale. The show was broadcast live on December 25th (one week after the first repeat of A Christmas Carol). A Child is Born has beautiful sung passages and, typically great Herrmannesque underscore. Mastered from the best available sources, the cd runs fifty-four minutes.
This release is limited to 1000 copies only.