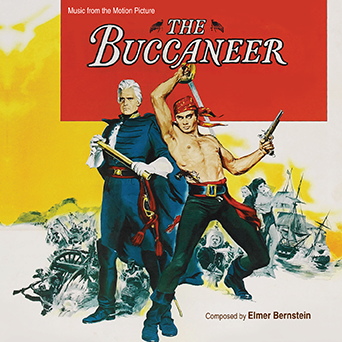 Kritzerland is proud to present a new limited edition release – the first complete release of

THE BUCCANEER

Composed by Elmer Bernstein

DeMille had had his greatest success by remaking The Ten Commandmentsfor Paramount in 1956, and so he decided that his next film for the studio where he'd toiled for so many years would be a remake of his 1938 film of The Buccaneer, this time in Technicolor and VistaVision. But by 1958, having prepared the film, DeMille's health was failing, so he asked Anthony Quinn to direct (Quinn was his son-in-law at the time) and longtime friend and associate Henry Wilcoxon to produce. A great cast was assembled, including Yul Brynner, Charles Boyer and Claire Bloom. Charlton Heston appeared as Andrew Jackson. Critics were cool to the film and it didn't light up the box office, but it managed to snag one Oscar nomination (for Best Costumes). But looking back at it today, the film is very entertaining, looks incredible and has an absolutely stunning score by Elmer Bernstein.

Bernstein had, of course, done the score for DeMille's The Ten Commandments so he was a natural for The Buccaneer. He delivered a beauty of a score, filled with big and bold music and classic Bernstein themes. The "Main Title" begins with a wonderful Bernstein fanfare leading into a glorious and heroic theme, more fanfares, and then an exquisitely beautiful theme followed by more fanfares – it's everything you'd want in a main title from a time when composers really knew how to set the tone of the film in its first minutes. The rest of his marvelous score is loaded with drama, romance and intrigue, all in the unique and colorful Bernstein style.

The Buccaneer was originally released on LP by Columbia Records and that LP program has had several CD releases over the years, all out of print. This is the first release of the complete score, taken from the three-track session scoring masters and the original 15 IPS three-track album master, all freshly transferred and sounding wonderful in full-bodied stereo. In addition to the complete dramatic score, we also present all of Bernstein's source music cues, a couple of alternates, and some Bernstein piano demos.

The Buccaneer is limited to 1000 copies only and is priced at $19.98, plus shipping.

CDs will ship by the first week of February, but we've been averaging three to four weeks early in terms of shipping ahead of the official ship date.
(Click on cover for enlarged version)
• Click on titles below to hear a song sample:


• Main Title*
Jackson Hisself/Pirate's Market
Honest Dominique
• The Lady and the Pirate
Governor Arrives/Captain Brown
• The Corinthian Departs/Barataria
Mutiny*
Raven's Pursuit/The Hanging
Vulcan Music Box
Back to Barataria
• The Knife*/Lafitte's House
British Men-of-War/British
Exit/Claiborne's Mansion
Lovers United
The Bayou
Treachery at Barataria*
Jackson's Study
• The Pardon
Lafitte's Arrival
Elmer's Virginia Reel
• Get a Rope
Finale*

Bonus Tracks
Finale (Album Version)
New Orleans Dock (Version 2)
Bagpipe and Drum Medley
Jackson's Exit
Polka
Waltz No. 1
Waltz No. 2*
Allez à l'eau (Traditional, arr. Brynner)
(Yul Brynner, vocal)

Elmer Bernstein Piano Demos
New End of Prelude
British Toast and Dock
Love's Departure
Pirate's Market
Love in the Market
Yankee Doodle in Barataria
Nocturne
Celebration No. 1
Celebration No. 2
First Waltz
Second Waltz
Third Waltz
*Contains "Love Song From
The Buccaneer (Lovers' Gold)"
by Elmer Bernstein and Mack David