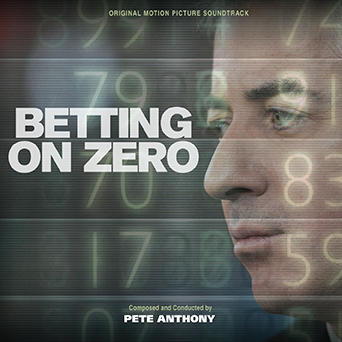 Kritzerland is proud to present the world premiere CD release from the hit documentary film:

BETTING ON ZERO

Composed and Conducted by Pete Anthony

Betting on Zero, a 2017 documentary directed by Ted Braun and an official selection of the Tribeca Film Festival, pits two strong-willed antagonists against each other – a hedge fund manager on a moral crusade, and a nutrition company accused of being a massive international pyramid scheme. The film is hard-hitting, suspenseful, touching, frustrating, maddening, and powerful.

The Los Angeles Times raved, "… a timely, provocative and absorbing tale of money, power, and a search for the truth." Indiewire said, "There should be a subgenre of documentaries solely defined by their capacity to incite righteous anger in the audience. Betting on Zero fits neatly in this category, causing the viewers' blood pressure to rise ever higher as it makes its case in less than 100 minutes." The film holds a 100% Fresh rating on Rotten Tomatoes and is currently showing on Netflix, after a theatrical run earlier in the year.

Some of the best film music today is being written for documentaries, where the pressures of temp tracks and studio heads isn't an issue. For Betting on Zero, the director turned to Pete Anthony, which turned out to be a completely inspired choice. Pete Anthony has orchestrated and conducted for some of the biggest composers in Hollywood, including Danny Elfman, James Newton Howard, Marc Shaiman, John Debney, John Powell, and many others, for such blockbusters as The Hunger Games, Maleficent, The Wolverine, King Kong, Elf, and a whole slew of other well known movies. His score for Betting on Zero shows him to be someone who completely understands film and what a score should do. His music underscores all the tension, heartbreak, and drama in a completely masterful way, with subtlety, emotion, and power. It's simply a terrific score. It was recorded at Capitol Records with the Hollywood Symphony Orchestra.

This is the CD premiere for Betting on Zero.

Betting on Zero is limited to 500 copies only and is priced at $19.98, plus shipping. NOTE: The first 100 copies ordered will be signed by composer Pete Anthony.

CDs will ship by the second week of September, but we've actually been averaging three to five weeks early in terms of shipping ahead of the official ship date.

ATTENTION INDIEGOGO CONTRIBUTORS: FOR THIS RELEASE – IF YOU WANT TO OPT-OUT OF RECEIVING IT YOU WILL NEED TO SEND US AN E-MAIL OPTING OUT PRIOR TO THE DATE IT SHIPS – SEND TO kritzerland@gmail.com. IF YOU WISH TO RECEIVE IT, YOU DON'T NEED TO DO ANYTHING. IF YOU ARE NOT AN INDIEGOGO CONTRIBUTOR, ORDER AS YOU NORMALLY WOULD. THANK YOU.