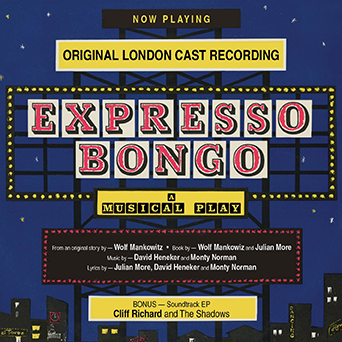 Kritzerland is proud to present an original cast album recording of a great 1950s British musical comedy:

EXPRESSO BONGO

Music by David Heneker and Monty Norman
Lyrics by Julian More, David Heneker, and Monty Norman

On April 23, 1958, Expresso Bongo burst on the London theatre scene. A satire of the music industry, the show starred Paul Scofield, James Kenney, Millicent Martin, Meier Tzelniker, Hy Hazell, and Elizabeth Ashley. The musical had a book by Wolf Mankowitz (A Kid for Two Farthings, The Day the Earth Caught Fire, Casino Royale) and Julian More (Irma la Douce), music by David Heneker (Half a Sixpence) and Monty Norman (the "James Bond Theme"), and lyrics by Julian More, David Heneker, and Monty Norman. The pop singer in the show was loosely based on Tommy Steele. It was a moderate hit but enough of one for director Val Guest to turn it into a film the following year, starring Laurence Harvey and pop singer Cliff Richard.

Divorced from its time and place, the score is really delightful, filled with snappy tunes, clever lyrics, and satirical over-the-top pop ballads of the era. After the show's run, it kind of just disappeared off the face of the earth, with only its cast album and film version keeping its memory alive.

The original cast album of Expresso Bongo was released in mono only by Nixa Records. That was reissued in the United States many years later with an especially bad LP and then CD transfer. For this new release, James Nelson has done a major remastering, bringing the original brashness and luster back to what was an excellent recording. We're also happy to include the Cliff Richard film songs, along with cover versions of two other songs from the show as bonus tracks.

Expresso Bongo is limited to 500 copies only and priced at $19.98, plus shipping. CDs will ship by the third week of December, but never fear, we've actually been averaging three to five weeks early in terms of shipping ahead of the official ship date.

ATTENTION INDIEGOGO CONTRIBUTORS:

IF YOU WISH TO RECEIVE THIS RELEASE YOU MUST OPT-IN BY SENDING US AN E-MAIL – SEND TO kritzerland@gmail.com. IF YOU DO NOT WISH TO RECEIVE IT, YOU DON"T NEED TO DO ANYTHING. IF YOU ARE NOT AN INDIEGOGO CONTRIBUTOR, ORDER AS YOU NORMALLY WOULD. THANK YOU.