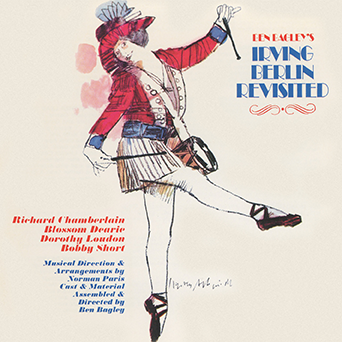 Kritzerland is proud to present the next release in our ongoing series of Ben Bagley reissues: IRVING BERLIN REVISITED
Music and Lyrics by Irving Berlin
At the time Ben Bagley did Irving Berlin Revisited, it was not so easy to gain access to Mr. Berlin's "trunk." But the song choices Bagley came up with were lesser-known Berlin titles, some had no real recordings, and so at the time the album was as refreshing as all his Revisited albums were back when they originally came out. As always, his cast was tops: Richard Chamberlain, Blossom Dearie, Dorothy Loudon, and Bobby Short. And as he usually did for his CD releases, he added some additional material. What makes this album one of the best of the Bagleys was Norman Paris arranging and conducting. In fact, this is one of Paris's best and the band is really good.
Irving Berlin had his first major hit with "Alexander's Ragtime Band. From there, there was no looking back. He became one of the most iconic and beloved songwriters in the history of popular music. Twenty original Broadway shows, fifteen original Hollywood films, and one hit after another. His catalog is a laundry list of The Great American Songbook classics. His shows include such classics as Ziegfeld Follies, Face the Music, As Thousands Cheer, Louisiana Purchase, Annie Get Your Gun, Call Me Madam, and his final Broadway show, Mr. President, and his films include Top Hat, Follow the Fleet, Carefree, Alexander's Ragtime Band, Holiday Inn, This Is the Army, Blue Skies, Easter Parade, There's No Business Like Show Business, White Christmas and more.
As Jerome Kern wrote: "Irving Berlin has no place in American music – he is American music." As always with the Bagley albums, we have cleaned up the sound – this one was especially wacky to deal with – reversed channels on some songs and other sound issues. James Nelson has worked his magic here, so this sounds better than it ever has. And, of course, the great Harvey Schmidt cover art is always the icing on the Bagley cake.
IRVING BERLIN REVISITED is limited to 500 copies only and priced at $19.98, plus shipping. This is a PRE-ORDER – CDs will ship by the third week of December, but never fear, we've actually been averaging three to five weeks early in terms of shipping ahead of the official ship date.
Also note that your PayPal receipt is the only receipt you get – we don't send out confirmations beyond that.
(Click on cover for enlarged version)

• Click on titles below to hear a song sample:

• Beautiful Faces/Sadie Salome Go Home -
Bobby Short, William H. Elliott, Miles Kreuger, Dorothy Loudon
• Lonely Heart - Richard Chamberlain
• It'll Come to You - Blossom Dearie, Bobby Short
• Mr. Monotony - Dorothy Loudon
Fools Fall in Love - Richard Chamberlain
• Dance and Grow Thin/Back to Back/The Yam - Blossom Dearie, Bobby Short, Dorothy Loudon
Louisiana Purchase - Dorothy Loudon, Bobby Short, William H. Elliott
How's Chances - Richard Chamberlain
• Harlem on My Mind - Bobby Short
Wild About You - Blossom Dearie
Waiting at the End of the Road Dorothy Loudon, Bobby Short
I'm Getting Tired So I Can Sleep -
Richard Chamberlain
I'd Rather Lead a Band - Bobby Short, Dorothy Loudon, Blossom Dearie
When I Lost You - Ann Hampton Callaway
Rag Picker - Arthur Siegel
Listening - Sandy Stewart
Sex Marches On - Ann Hampton Callaway,
Rhonda Mae Callaway
Sorry for Myself - Arthur Siegel
You're Laughing at Me - Ann Hampton Callaway Cohen Owes Me Ninety-Seven Dollars -
William Cantor
Lead Me to Love - Sandy Stewart, Arthur Siegel
It's a Lovely Day Tomorrow - Ann Hampton Callaway
Musical Direction and Arrangements
by Norman Paris