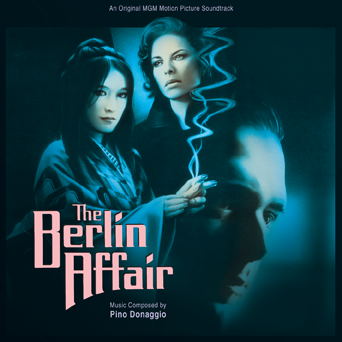 Kritzerland is proud to present a new limited edition soundtrack:
THE BERLIN AFFAIR
Music Composed by Pino Donaggio
In 1974, director Liliana Cavani made the extremely controversial film The Night Porter, which divided critics and audiences all over the world. A decade later, she was back with The Berlin Affair (based on the novel The Buddhist Cross by Junichiro Tanazaki), which, while not as controversial as The Night Porter, still explored hotbed topics of sexuality and homosexuality, race, jealousy, torment, deception, betrayal, all set in 1938 Berlin and involving a Nazi official, his wife, the daughter of the Japanese Ambassador, an art teacher, all of whose lives intertwine in ultimately destructive ways. The cast was excellent, with German actress Gudrun Landgrebe elegant and beautiful as Louise, Kevin McNally as her husband, and alluring Mio Takaki as the object of many people's desires. The film was beautifully photographed by Dante Spinotti, who would go on to photograph Manhunter, Crimes Of The Heart, The Last Of The Mohicans, LA Confidential, and many others. Capturing the seething passions, eroticism, intrigue, and atmosphere, Pino Donaggio's score is as much a leading player in the film as any of its characters.
Donaggio had been scoring films for over a decade, starting with Nicholas Roeg's Don't Look Now (1973), and continuing with his work for Brian De Palma (Carrie, Dressed To Kill, Body Double, Blow Out and others) as well as cult classics like Tourist Trap, The Howling, Piranha, Tex, Hercules, as well as providing quite a few scores for Cannon Films, of which The Berlin Affair was one. The score for The Berlin Affair is Donaggio at the top of his game. With its sinuous, swirling, hypnotic melodies capturing all the underlying complexities of the characters and the story, the music is like a symphonic fever dream in the film, and a wonderful and completely satisfying listening experience away from the film. In fact, the music is mixed quite low in the film, and many cues are truncated, so it's especially lovely to hear them complete and in gorgeous sound. The themes are some of the most beautiful Donaggio has ever written.
The Berlin Affair was issued on LP, but this is its world premiere CD release. The LP presented forty-two minutes of music, including a title song (inspired by but not used in the film), and several source/pastiche cues. We present all those, plus all the cues not used on the album, and they are many. The CD was mastered from the original Italian two-track mixed score tapes housed in the MGM vaults – they were in pristine condition and the recording is absolutely stunning. The CD runs just about an hour and contains about eighteen minutes of never before released score cues.
This release is limited to 1000 copies only. The price of the CD is $19.98, plus shipping.