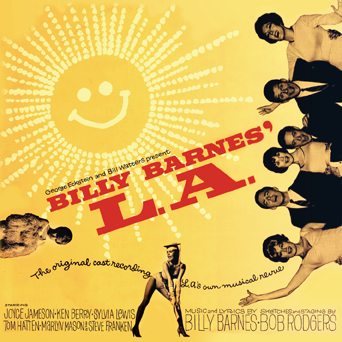 "L.A. IS…"
KRITZERLAND IS PROUD TO PRESENT A LIMITED EDITION CD:
BILLY BARNES' L.A.
Original Cast Album (and more!)
Music and Lyrics by Billy Barnes
After the rousing success of The Billy Barnes Revue and The Billy Barnes People (both of which traveled from L.A. to Broadway), Billy Barnes' L.A. opened at the Coronet on October 10, 1962, and, as always, the LA critics and audiences ate it up. Obviously an LA-centric show was not going to be traveling to Broadway, but Billy was LA and LA loved Billy's shows (and Bob Rodgers was an integral part of them as both sketch writer and director). The show skewered all things LA back then – some of the references probably won't make sense now, but they're still a lot of fun and, as always, the songs are melodic, infectious, and reflect Billy's impish personality and wit. "The Akron," for example, was a classic budget LA store – sort of an LA version of Target. And to prove that Billy was not always about impish and sly, the show features a wonderful Billy ballad, "Does Anybody Here Love Me?" The cast of merry-makers is great – Joyce Jameson, Ken Berry, Steve Franken, Tom Hatten, Marlyn Mason, and Sylvia Lewis.
The show received the usual critical love letters – "Madly funny" said the LA Times. "Uproarious… Delightful funsters" said the Herald-Examiner. "Billy Barnes is Hollywood's most talented revue commentator" said the Hollywood Reporter. "Genuinely entertaining… Bright, fast-paced, replete with clever lyrics" said Variety. Even Louella Parsons chimed in with "Something no one should miss."
Billy Barnes, LA native, has been writing brilliant special material for decades. He also wrote the classic June Christy song, "Something Cool" as well as the Barbra Streisand classic, "Too Long at the Fair," which was on her debut album. In addition to his classic revues, Billy spent years doing the music for TV's Laugh-In, as well as writing special material for any number of network TV specials, as well as for specific celebrities.
There was a previous CD release of Billy Barnes' L.A. back in 1994 – we've cleaned up the sound as much as possible given the limitation of the original recording tapes, and we've added five great bonus tracks from a live show at Studio One, a nightclub in West Hollywood, where Billy and Marvin Laird were at the twin pianos singing some wonderful Billy songs, including an updated (to then) "L.A. Is," with lyrics reflecting the quite different LA of the 1970s – massage parlors, Mr. Chow's, coke (not the beverage), the Roxy, the Whiskey A Go Go, and even Studio One.
They simply don't know how to write this sort of revue anymore. But, thanks to this CD, we all can get in our LA time machine and travel back to a more innocent time, a time when Los Angeles was fun and weird and wonderful, a time that Billy (and Bob Rodgers) capture perfectly in their perfectly perfect time capsule called Billy Barnes' L.A.

This release is limited to 1000 copies. The price is $19.98 plus shipping.
CD will ship by the third week of September – however, preorders placed directly through Kritzerland usually ship one to five weeks earlier (we've been averaging four weeks early).