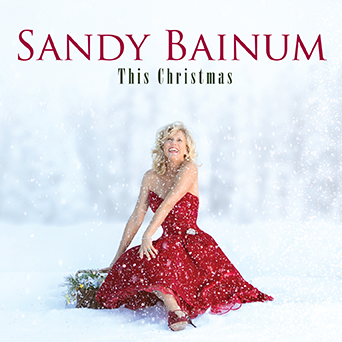 IT'S THE MOST WONDERFUL TIME OF THE YEAR
Kritzerland is proud to present its latest release – a brand new, shiny holiday treat wrapped up in a beautiful and talented singer!
SANDY BAINUM
THIS CHRISTMAS
It's a Kritzerland Christmas this season, with singer Sandy Bainum. This Christmas will put you in the Christmas spirit all year 'round, with such classics as "Happy Holiday/White Christmas," "The Christmas Song," "Sleigh Ride," "Have Yourself a Merry Little Christmas," and other great Yuletide hits, including several new Christmas songs to warm your heart, and some Christmas songs from Broadway musicals that will surprise and delight you.
Sandy Bainum made the leap from small town Pennsylvania to Broadway when she was hired for the chorus of David Merrick's legendary production of 42nd Street. Within just a week, she'd clinched the role of Lorraine and was the understudy for the plum role of Annie. Not long after, she took over the part of Annie, a role she continued to play on tour, and ultimately in the Broadway company. During a stop at Washington's National Theatre, Sandy was noticed, wooed and eventually won by then Maryland State Senator Stewart Bainum, who brought her to Washington and a new phase of her busy career.
Over the past several years, Sandy, a classically trained coloratura soprano and dancer, has performed at many of Washington's top theatrical venues. At the Kennedy Center she appeared in a solo concert on the Millennium Stage honoring Roger Stevens, founder of the Kennedy Center, on the anniversary of his 100th birthday, as well as in Regina with Patti LuPone, and Celebrate Broadway. At The Washington Savoyards, Sandy performed the lead in Kiss Me Kate and Marion in The Music Man for which she received a nomination for the 2010 Helen Hayes Award for Outstanding Lead Actress in a Musical. She garnered excellent reviews as Ellie in Showboat for the Signature Theatre in Arlington, Virginia, where the cast was nominated for a 2010 Helen Hayes Award for Outstanding Ensemble in a Musical. Also at the Signature, Sandy appeared in a production of Sunset Boulevard in 2011. She played the featured roles of Sally Slaton and Mrs. Phagan in the Ford's Theatre's production of Parade and most recently she appeared as Gertrude and the gravedigger in an innovative production of Hamlet for DC's Fringe Festival. She has recently done her new cabaret show, Something to Sing About in New York, Washington, and Los Angeles.
This Christmas is produced by Bruce Kimmel, with musical direction, arrangements, and orchestrations by Lanny Meyers. Scored for full orchestra, the album is a great big, beautiful, heartfelt, and fun look at the sights and sounds of Christmas. It's a perfect stocking stuffer and an album that's sure to put you in the holiday spirit.
The price is $17.98 (plus shipping). CDs will ship by the first week of December – however, preorders placed directly through Kritzerland usually ship one to five weeks earlier (we've been averaging four weeks early). To place an order, see the cover, or hear audio samples, just visit www.kritzerland.com.
Sandy will be performing songs from This Christmas at the Signature Theater in Washington on December 3, and at The Metropolitan Room on December 17 to launch the CD.