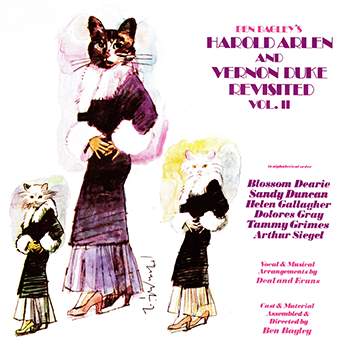 Kritzerland is proud to present the latest release in the Ben Bagley Revisited series:
BEN BAGLEY'S HAROLD ARLEN AND VERNON DUKE REVISITED VOLUME II
Music by Harold Arlen and Vernon Duke
Lyrics by Martin Charnin, Howard Dietz, Ira Gershwin, E.Y. Harburg, John Latouche
Hyman Arluck aka Harold Arlen was one-of-a-kind, a completely unique composer whose musical language was melodic, trenchant, heartfelt, fun, bluesy – he really could do anything well, but when you hear an Arlen tune you know it's an Arlen tune. He wrote for Broadway and films and wrote the score for one of the most beloved movies of all time, The Wizard of Oz and won an Oscar for "Over the Rainbow," one of the most performed songs ever.

Vladimir Dukelsky entered this world in 1903 and is certainly one of the most underrated composers in all of The Great American Songbook. Of course, he changed his name to Vernon Duke and for someone who had some very huge hits over the years, mention his name to most people and they won't know who you're talking about. But anyone who wrote with such luminaries as Johnny Mercer, Ira Gershwin, Howard Dietz, Ogden Nash, Sammy Cahn, E.Y. Harburg is not exactly chopped liver.
And here they are, together again for the first time, thanks to Ben Bagley. From Arlen we get some great songs from the revue Life Begins at 8:40, as well as cut songs from Jamaica, the rare Sadie Thompson, and a few other rarities. From Vernon Duke we get rare songs from Banjo Eyes, Zenda, Walk a Little Faster, The Lady Comes Across, and more. Plus additional Harold Arlen songs in a bonus section.
For Harold Arlen and Vernon Duke Revisited Volume II, we have the usual eclectic and fun Bagley cast of Dolores Gray, Helen Gallagher, Sandy Duncan, Tammy Grimes, Blossom Dearie, and the ever-present Arthur Siegel. The wonderful arrangements and orchestrations are by Dennis Deal and Albert Evans. The rarities included are all gems and wonderful discoveries and we really do have to be grateful to the self-described "incurably insane" Ben for giving these treasures to us. As we've done for all these releases, we've considerably spruced up the sound for this new release. And the cover art is, of course, by the great Harvey Schmidt.
HAROLD ARLEN AND VERNON DUKE REVISITED, VOLUME II is limited to 500 copies only and priced at $19.98, plus shipping. This is a PRE-ORDER – CDs will ship by the by the second week of February, but as always we strive to get it shipped prior to that. However, lately, both printing and pressing plants has been slower than usual due to the pandemic.


Also note that your PayPal receipt is the only receipt you get – we don't send out confirmations beyond that.