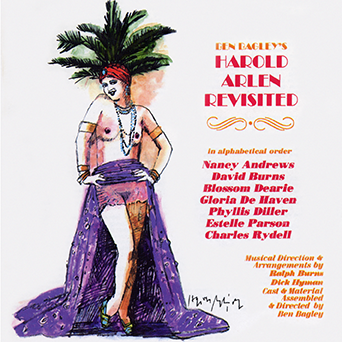 Kritzerland is proud to present three new releases – one world premiere soundtrack release, a new Ben Bagley reissue, and a historic archival release of an opera/musical theatre masterpiece:

BEN BAGLEY'S HAROLD ARLEN REVISITED

Music by Harold Arlen
Lyrics by Ralph Blane, DeSylva, Henderson, and Brown, Dorothy Fields, Ira Gershwin, E.Y. Harburg, Ted Koehler, Bud McCreery, Johnny Mercer, and Jack Yellin

Ben Bagley's Harold Arlen Revisited is another delightful entry in the Revisited series. Back when these Revisited LPs came out they were like an oasis in the desert. Even when they were issued on CD, these were still frequently the only recordings of certain songs.

Hyman Arluck aka Harold Arlen was one-of-a-kind, a completely unique composer whose musical language was melodic, trenchant, heartfelt, fun, bluesy – he really could do anything well, but when you hear an Arlen tune you know it's an Arlen tune. The breadth of his catalog is simply amazing – "Blues in the Night," "My Shining Hour," "Accentuate the Positive," "Come Rain or Come Shine," "Any Place I Hang My Hat is Home," "Happiness is a Thing Called Joe," "I've Got the World On a String," "It's Only a Paper Moon," "One for My Baby (And One More for the Road)," "Right as the Rain," "That Old Black Magic," "The Man that Got Away," Lydia, the Tattooed Lady," "Let's Fall in Love," and on and on and on. He wrote for Broadway and films and wrote the score for one of the most beloved movies of all time, The Wizard of Oz and won an Oscar for "Over the Rainbow," one of the most performed songs ever.

As with all of Bagley's Revisited series, you won't be hearing the hits, the classics – you'll be hearing the more obscure Arlen, which is the fun of these albums. But though they may not be the hits, they're still great – filled with Arlen's glorious tunes and of course the lyrics are by some of the best. The usual assortment of Bagley's regular performers are here, including Phyllis Diller, Estelle Parsons, David Burns, Nancy Andrews, Gloria DeHaven, Blossom Dearie and others. And you couldn't really as for better than Ralph Burns and Dick Hyman for arrangers and musical direction.

As we've done with the other albums in this series, we have considerably spruced up the sound. For the CD release, Bagley went into the studio and recorded bonus material to fill out the CD length.

HAROLD ARLEN REVISITED is limited to 500 copies only and priced at $19.98, plus shipping. CDs will ship by the second week of September, but never fear, we've actually been averaging three to five weeks early in terms of shipping ahead of the official ship date.