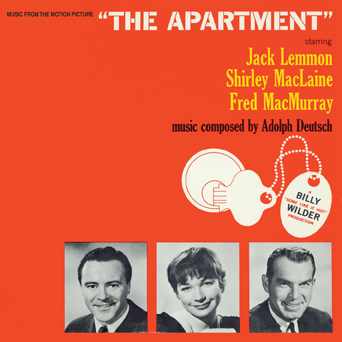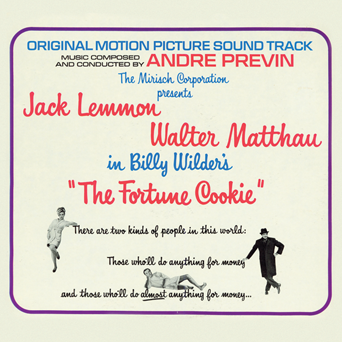 Kritzerland is proud to off the original motion picture soundtracks from two classic Billy Wilder/Jack Lemmon films, The Apartment and The Fortune Cookie.
In 1959, Billy Wilder (along with co-writer I.A.L. Diamond) made movie history with one of the funniest films ever made – Some Like It Hot. In that film, Jack Lemmon gave a brilliant performance as Jerry/Daphne. The following year, Wilder and Lemmon struck gold again, this time with The Apartment, a funny, rueful, biting comedy/drama, completely unlike Some Like It Hot. The film also starred Shirley MacLaine, Fred MacMurray, and Jack Kruschen. It was a huge success, and garnered an incredible ten Academy Award nominations (including one for Lemmon), and won five, including Best Picture. Adolph Deutsch, an underrated and really terrific composer, wrote the wonderful and popular score. However, the score's well-known main theme was, in fact, by Charles Williams, a British composer, and had been used years earlier in an English film. That theme, entitled "Jealous Lover" was made so popular by the film that the publisher agreed to re-name it "Theme From The Apartment." The music served the film perfectly, and the soundtrack album was hugely popular, as was the Ferrante and Teicher version of the theme. There is superb dramatic scoring as well as jazzier tracks, and the whole thing makes for a wonderful listening experience.
A few years later, Wilder and Lemmon re-teamed for their fourth film together, The Fortune Cookie, a very funny and, at times, oddly touching film. Mr. Lemmon turned in another great performance, and this was the breakout film for his co-star, Walter Matthau, who won a well-deserved Oscar for his performance as the deviously devious Whiplash Willie Gingrich (Lemmon and Matthau would, of course, go on to make screen history as The Odd Couple). For The Fortune Cookie, the composer was Andre Previn, also doing his fourth Wilder film (after One, Two, Three, Irma La Douce, and Kiss Me, Stupid) – in fact, The Fortune Cookie would be Mr. Previn's last original Hollywood film score. And what a score it is – sly, beautiful, moody, funny – it has it all. In fact, it gives the film a surprising depth, and is just further proof of what an amazing film composer Mr. Previn was.
The Apartment and The Fortune Cookie were previously released on CD only as part of a very big and very expensive box set called The MGM SoundtrackTreasury from Film Score Monthly – that set sold out very quickly, so for people who missed it, or may have wanted only one or two scores, it was a lost opportunity. Therefore, we're very pleased to bring out this single release of two of the best scores from that set. We've also added a bonus track from the Wilder/Lemmon film, Irma La Douce – the great Andre Previn main title music, which incorporates all the major themes from the film (both by Mr. Previn, and his adaptation of Marguerite Monnot's music from the original stage musical). This release has been newly remastered. While we present the original LP sequencing, we have taken the liberty of putting the fantastic The Fortune Cookie main title back where it belongs, as the leadoff track for that score.
Opening The Fortune Cookie, your fortune is – this CD will give you much pleasure, listening-wise.
This release is limited to 1000 copies only.
CDs will ship in late August or the beginning of September – however, preorders placed directly through Kritzerland usually ship one to five weeks earlier (we've been averaging four weeks early).