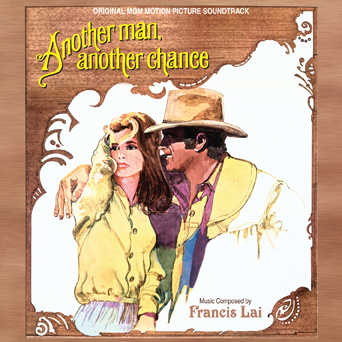 Kritzerland is proud to present a limited edition soundtrack release, first time on CD:
ANOTHER MAN, ANOTHER CHANCE
Music Composed by Francis Lai
Fate. Chance. Destiny. These three themes recur constantly in the work of Claude Lelouch, one of the most distinctive and interesting filmmakers in French cinema. In 1966, Lelouch burst on the scene with Un Homme et Une Femme (A Man and a Woman), which became an international sensation and a hugely influential film, style-wise, music-wise, and every otherwise-wise, Lelouch never quite achieved success like that again – but he continued and continues to make interesting, intriguing, occasionally brilliant, moving, funny, thought-provoking and wildly enjoyable films.
Another Man, Another Chance is a wonderful film, much maligned at the time of its release (Star Wars had just come out and that's all anyone wanted to see and/or talk about, although it was a very strong year for films and there were many other hits – they certainly didn't want to see a slow-moving, adult art film set in the old West), and the film disappeared quickly after tepid reviews and no business. But time has been kind to Another Man, Another Chance and seeing it today simply makes one appreciate what a fine film it is. The photography, the acting, the style, the leisurely pace, the way you find out certain key information as almost an afterthought – it's unique filmmaking and storytelling and no one does this sort of thing better than Lelouch, not that many people have tried. And his partner in crime for so many of his films has been composer Francis Lai – it's one of the longest composer/director relationships in cinema and Lai's music has helped give Lelouch's films their unique quality.
Like Lelouch, Lai burst on the scene with A Man and a Woman – the soundtrack album was a major seller, and Lai's memorable theme was recorded over and over again, with lyrics, without lyrics, and several other themes from the film were also oft recorded. Then Lai struck gold doing the score to Love Story in 1970. Once again, he created a theme that could be hummed by everyone and was, with many cover versions and a best-selling soundtrack album – and it garnered him his first and only Oscar nomination and his first and only Oscar win for Best Score. In addition to the Lelouch films, all of which contain wonderful and melodic scores, Lai also wrote masterful scores for such films as Mayerling, The Bobo (another delectably memorable theme), Hannibal Brooks, Rider On The Rain, The Games, Hello-Goodbye, Bilitis, International Velvet, Oliver's Story, My New Partner, Marie, just to name a few.
Lai's score for Another Man, Another Chance is absolutely gorgeous, with only a handful of themes, but as always with Lai, they are memorably melodic and give the film a dreamlike quality. There are a few short snippets of Beethoven's Fifth and a lot of Lai, used in all sorts of interesting and different ways in the film. No one else's film music sounds quite like Francis Lai's – and this score is one of his finest.
Another Man, Another Chance was released on LP, but only as a hard-to-find import. For this first ever CD release, we've gone back to the original French two-track stereo tapes housed in the MGM vaults. The cues were in slightly different order due to time constraints for LPs, but we've left them in their original order. The track titles on the LP were weird, with most of the titles listing as "Un Autre Homme, Une Autre Chance" over and over again. We've opted to use the titles listed exactly as they were on the tape boxes. Another interesting thing about this score is that Gabriel Yared did most of the musical arrangements.
We're very happy to bring this wonderful Francis Lai score to CD for the first time. His name may not be first on a film score fan's lips, but Lai has created some great scores and it's great to know that he's alive and well and regularly composing music for films.
This release is limited to 1000 copies only. The price is $19.98, plus shipping.
CD will ship the second week of October – however, never fear, preorders placed directly through Kritzerland usually ship one to five weeks earlier (we've been averaging four weeks early).