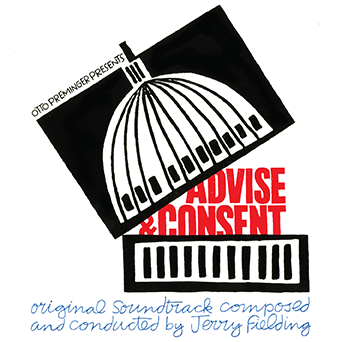 Kritzerland is proud to present a classic soundtrack:

ADVISE AND CONSENT

Composed and Conducted by Jerry Fielding

Adapted from the 1959 novel by Allen Drury, Otto Preminger's 1962 film of Advise and Consent was a hard-hitting political drama with an all-star cast. Preminger was one of the few directors of that time, along with John Ford, Alfred Hitchcock, and a few others, whose name as director was publicized as much as the stars of his films. Advise and Consent was not without controversy due to a subplot of a character being blackmailed over a wartime homosexual affair – at the time, not many A pictures had shown a gay bar on screen. The cast was a starry one: Henry Fonda, Charles Laughton (whose final film it was), Don Murray, Walter Pidgeon, Peter Lawford, Gene Tierney, Franchot Tone, Lew Ayres, Burgess Meredith, Paul Ford, George Grizzard, Inga Swenson, Edward Andrews, and in a small role, Betty White.

Preminger had always been a director with a keen ear for music and keen eye for up-and-coming or underrated and underused composers and so it was for Advise and Consent, when Preminger had the good musical taste to hire Jerry Fielding (who'd been a victim of the blacklist) to write his first film score, thus beginning his long film scoring career that gave the world some incredible scores like The Wild Bunch, Lawman, Straw Dogs, The Nightcomers, Chato's Land, Junior Bonner, The Mechanic, Bring Me the Head of Alfredo Garcia, Johnny Got His Gun, The Outlaw Josey Wales, The Enforcer, Demon Seed, and many others.

In Advise and Consent, Fielding's great sense of melody is apparent from the first notes of its main theme, a beautiful piece that never overplays its musical hand in the film – it's a gorgeous melody. But it's the dramatic scoring that's so wonderful, especially for a first-timer. Fielding really has a feel for this story and these characters, as well as a terrific sense of how to set-up a scene, whether with exciting music, melancholy music, tense music, dissonant music – his score is a marvel.

RCA issued the soundtrack to the film, with the distinctive Saul Bass art adorning its cover. The album was, like all soundtracks of that era, fairly short at around thirty minutes. But what a thirty minutes it is. While there was a Spanish import CD of the album, it was not taken from the first generation album master, but a sub-master. For this release, Sony provided us with the original first-generation album master and it is, in a word, spectacular, and James Nelson has put his magic on it. The packaging also includes a lovely tribute to Fielding by Nick Redman.

ADVISE AND CONSENT is limited to 1000 copies only and priced at $19.98, plus shipping. CDs will ship by the first week of July, but never fear, we've actually been averaging three to five weeks early in terms of shipping ahead of the official ship date.

ATTENTION INDIEGOGO CONTRIBUTORS

: IF YOU WISH TO RECEIVE THIS RELEASE YOU MUST OPT-IN BY SENDING US AN E-MAIL – SEND TO kritzerland@gmail.com. IF YOU DO NOT WISH TO RECEIVE IT, YOU DON"T NEED TO DO ANYTHING. IF YOU ARE NOT AN INDIEGOGO CONTRIBUTOR, ORDER AS YOU NORMALLY WOULD. THANK YOU.