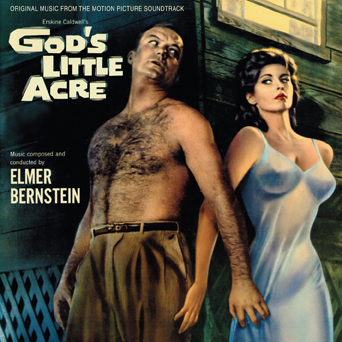 "I'M GONNA TELL YOU 'BOUT GOD'S LITTLE ACRE"

Kritzerland is proud to present its newest limited edition CD – the original motion picture soundtrack from God's Little Acre, with a score by Elmer Bernstein.

God's Little Acre, Anthony Mann's 1958 film from the classic and controversial novel by Erskine Caldwell (Mr. Caldwell was arrested and tried for obscenity – he won the case and the book became infamous), is a wonderfully-filmed slice of ripe Southern melodrama starring Aldo Ray, Tina Louise, and Robert Ryan. The sultry poster, showing a bare-chested Ray standing next to the incredibly sexy and provocatively clad Louise certainly got people into the theater and it probably helped United Artists Records sell a few records, too.

Elmer Bernstein created one of his early classics with his score to God's Little Acre. From its infectious title song to the Americana-filled tonal colors, to the cues dripping with lush and gorgeous themes, Bernstein makes the film seethe with sensuality, humor, and pathos. It's a great score and one that has, for whatever reasons, taken a long time to come to CD.

Beautifully mastered for CD from the album masters, God's Little Acre is an aural delight and a must-have for any film score aficionado or Bernstein fan. In addition to the LP presentation, we're very pleased to announce that we've found ten additional minutes of score cues, which were taken from Mr. Bernstein's archival tapes, and we've included these cues as a bonus suite. Very much in his 1950s/early 1960s mode, no one did this kind of score better than Elmer Bernstein – in fact, he probably wrote the book on this kind of score.

This release is limited to 1000 copies only.