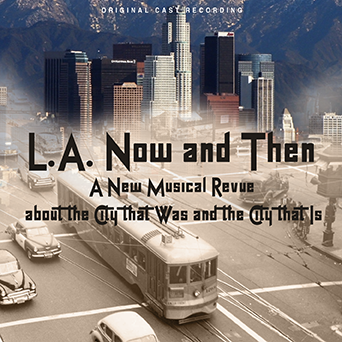 Kritzerland is proud to present a new original cast recording,
a two-CD set for a one-CD price:
L.A. Now and Then
A New Musical Revue
Music and Lyrics by Michele Brourman, Grant Geissman, Paul Gordon, Karen Gottlieb, Bruce Kimmel,
Shelly Markham, Wayne Moore, Adryan Russ,
Richard M. Sherman, The Sherman Brothers
Sketches and Monologues by Doug Haverty,
Bruce Kimmel, Bruce Vilanch, David Wechter
Conceived and Directed by Bruce Kimmel
This is the city. Los Angeles, California. And this is L.A. Now and Then, a new musical revue about the City of Angels, the city that was and the city that is. Here's what the critics had to say:
"A beautiful, heartfelt love letter to the city's past. Great choreography by Cheryl Baxter. 'This Is the City' – the L.A. Chamber of Commerce might consider making this their theme song, as it is a love letter to the City of the Angels. Director Kimmel's pacing kept the show moving at a fast clip as he gave each cast member a chance to shine. Kimmel wrote the hilarioius paean to the famed Olympic Auditorium's history of wrestling matches – Doug Haverty wrote the nostalgic trek through L.A.'s gay history that was beautifully enacted by Robert Yacko." — Rob Stevens, Now Playing
"What a lovely surprise! I was overwhelmed by the overall drive and energy of the performers, who delivered a mightily informative, nostalgic, and fun show. Kimmel as director maintains a great pace throughout: No lags – the show moves! Kudos to the entire company! Praise as well to choreographer Cheryl Baxter for her fast-paced moves and to musical director Richard Allen and his terrific sounding onstage band. I sincerely hope that Bruce Kimmel will move this show to another theater… It is a show most worthy of that kind of attention."
— Don Grigware BroadwayWorld
"Producer/Director/Writer Bruce Kimmel scores a home town-home run with his newest endeavor, "L.A. Now and Then," one of the most intriguing musical revues in recent memory. Working with over a dozen contributing collaborators of the highest pedigree, a top notch creative team, and a cast who - through carefully crafted songs, spirited choreography, and keenly etched monologues - tell the tales of the west coast metropolis with such an enthusiastic eagerness, you can't help but become emotionally involved throughout the passage of what is nothing less than a spectacular sentimental journey. All aboard. You're in for one hell of a ride!"
— State of the Arts / LA Talk Radio

"An unabashed, entertaining celebration of the City of Angels, Bruce Kimmel's L.A. Now and Then is a loving look at Los Angeles, full of nostalgia and wonder. By turns exuberant, lyrical and elegiac, the musical features fine performances and excellent tunes showcasing L.A. from the 1940s until now. Told as much through gorgeous, vintage photographs as through songs and sketches, L.A. Now and Then covers such topics as movie palaces, the Helms Bakery Man, C. C. Brown's, vintage kids' TV shows, Walt Disney and historic preservation. Striking visuals really make the lyrics pop."
— Mary Mallory, The Tolucan Times
The show was recorded live at the Caminito Theater. The booklet is filled with color photographs that will help you get a feel for the visual side of the show. While the show is about Los Angeles, it will hit home no matter where you're from – the cities may differ, the details may differ, but the shared experiences are universal. With songs by a wonderful group of songwriters, including Academy Award-winner Richard M. Sherman, whose song, "The Whimsey Works," is a touching and beautiful tribute to Walt Disney and his studio, at the time when Mr. Sherman worked there with brother Robert. A great six-piece band and orchestrations by the brilliant Lanny Meyers.
L.A. Now and Then is a valentine to the past and present Los Angeles. So, whether you're a native, a transplant, or a visitor, climb aboard for a wonderful ride through one of the most unique cities anywhere.
L.A. Now and Then two-CD set is priced at $19.98, plus shipping.
CDs will ship by the third week of July, but we've actually been averaging three to five weeks early in terms of shipping ahead of the official ship date.
ATTENTION INDIEGOGO CONTRIBUTORS: FOR THIS RELEASE – IF YOU WANT TO OPT-OUT OF RECEIVING IT, YOU DON'T HAVE TO DO ANYTHING AT ALL. YOU WILL AUTOMATICALLY BE OPTED OUT. IF YOU DO WISH TO RECEIVE IT, YOU WILL NEED TO SEND US AN E-MAIL OPTING IN – SEND TO kritzerland@gmail.com. IF YOU ARE NOT AN INDIEGOGO CONTRIBUTOR, ORDER AS YOU NORMALLY WOULD. THANK YOU.